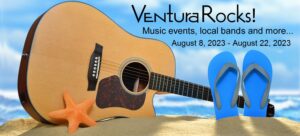 by Pam Baumgardner
VenturaRocks.com
Phil Salazar and the Kin Folk's "The Shut it Down Tour" falls over the weekend of August 19 and 20 at the Santa Paula Theater Center. Phil Salazar was interviewed by Mary Z Wilson during her segment, Americana in the 805, on the Pam Baumgardner Music Hour airing on KPPQ 104.1 FM here in Ventura. Phil clarified that there was no falling out, the band members all get along just fine, he is just shutting down the "Salazar booking agency" aspect of having a band. Whew! Phil took up the fiddle when he was 16 playing with various bands since around 1972. You might remember The Rincon Ramblers or the Phil Salazar Band around these parts over the past couple of decades. Phil has played with artists such as Bob Weir, Jon McEuen, Steve Miller, Jimmy Buffet, Zac Brown, Dwight Yoakam over the years either performing with or just jamming with them. I was pleased to learn that Phil will be playing in the future with Tom Corbett at the Ojai Underground Exchange and at Namba Performing Arts.
The Rubicon Theatre's Kids for Kids Benefit Concert is Saturday, August 19. The program is called, "What the World Needs Now…" The Music of Burt Bacharach and is conceived, directed, choreographed and produced by the students themselves with coaching support from Carolanne Marano and musical direction by Miriam Arichea. Funds raised will go towards scholarships for young people who might not otherwise be able to afford to participate in Rubicon's education program, they call it "paying it forward." Find out more at Rubicontheatre.org.
High Street Arts Center in Moorpark starts their summer concert series of tribute band starting with Journey USA on Friday, August 11, Raymond Michael's Elvis tribute on Saturday, August 12, and LA Sound Machine on Sunday August 13. The following weekend it's So Petty on Friday, August 18, and Raymond Michael returns with a tribute to Engelbert Humperdink and Tom Jones.
Harbor View Park 2023 Concerts by the Sea series continues with shows 4-6 pm on Saturday afternoons. Soul Machine plays August 12, and Los Cool Arrows on August 19. The park is located at 3850 Harbor Blvd. in Oxnard, where you're welcomed to bring picnics, blankets and lawn chairs.
Quick Notes: The final Grandstand Stage act at the Ventura County Fair will be on Wednesday, August , featuring Tesla; Doc Strange plays Madewest on Saturday,
August 12; Music Under the Stars Saturday evening concerts continue through August with Kings of 88 on August 12 and Soul Infusion on August 19; Dielectric, Casual Business and Birdbrain play an early show on Saturday, August 12 at Bombay's; Brett Dennen has a sold-out show at the Deer Lodge on Thursday, August 17; and Wild Child, a tribute to The Doors, will be at the Oxnard Performing Arts Center on Saturday, August 19.
Do you have any music-related news or upcoming shows you want help publicizing? Please send all information short or long to [email protected], and for updated music listings daily, go to www.VenturaRocks.com.