Recently the Ventura Downtown Lions Club kicked off their new Night Meeting with a fun and informal social hosted by The Portside Ventura Harbor. Their gracious hosts provided a beautiful display of hor d'oeuvres, drinks and dinner followed by tasty gelato from CRAVE.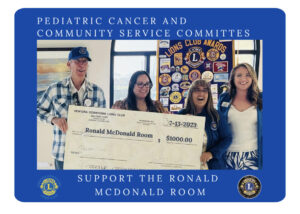 On behalf of the Pediatric Cancer and Community Service Committees, 1st VP Lisa Morris and PP Steve Shaw presented a $1000.00 check to the VCMC Ronald McDonald Room. There were over 30 members in attendance and a few guests. Feedback from the event was great and many members are looking forward to the night meetings.
Lion committees are always hard at work. On Saturday 7/15/23, PP Jon Youngerman and Lion Rookie of the Year Quincy Dungan organized a blood drive and about 20 members supported it.
There is still time to donate, just schedule an appointment and let them know you are donating on behalf of the Ventura Downtown Lions Club. With the Ventura Downtown Lions Club there are always opportunities to serve.. There are plenty to choose from!