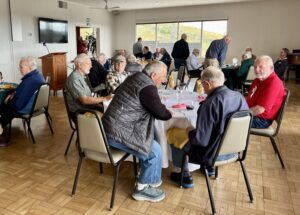 by Bob Warnagieris, Ed.D.
The Ventura Senior Men's Club, formerly known as the Ventura Retired Professional and Business Men's Club, was informally established in June, 1953 when two businessmen having lunch in a local restaurant got the idea of including acquaintances and friends for a regular socially-oriented luncheon.  The businessmen, E.L. Van Delan and J.E. Roberts acted on the idea and invited some 20 men to an informal order-what-you-want luncheon at a Loop's restaurant in Ventura.  The idea took hold and eventually included more than 200 members and a waiting list.  The Club was formally established with a set of by-laws, officers and board in 1957.
The Club's mission and protocol were especially appealing to men who had been in many of the community's service clubs for years, but were looking for a more relaxed social-connecting activity without the usual volunteer demands and fund raising.  The first set of by-laws expressly steered members away from topics involving politics and religion.  Retirement activities, work history, community growth, opportunities and good fellowship are always on the docket.
Over the decades membership has declined to about 40 – the pandemic being a factor in that loss.  To better reflect the average age of the members, the Club was renamed in 2021 as the Ventura Senior Men's Group.  The makeup of members still includes businessmen and professionals, but has expanded to ranchers, farmers, educators, federal, state and county workers plus various service industries. Cost of an annual membership remains at only $25.
The Group meets twice a month on the 1st and 3rd Tuesdays of the month at the Poinsettia Pavilion on Foothill Road in Ventura.  The usual meeting format is to gather at 11:30 am in the Santa Paula Room (East Side) with the meeting starting at 12:00 noon for a buffet luncheon.  The Group honors the flag, has an invocation, sings God Bless America and enjoys lunch.  A speaker is booked for each meeting for a ½ hour presentation.  Speakers cover all aspects of life in Ventura County including legal, protective services, senior services, recreational opportunities, educational and business activity.  Modest meal costs include use of the Santa Paula Room and announcements.
The Group is actively recruiting senior men (age 55 plus) to join in the fellowship with associates and friends.  For further information those interested can call Lyle Hotzler, the Membership Chair, at 805-341-9820 or email at [email protected].