Feel free to bring your dog but they need to be on a leash.
by Hadie Tobar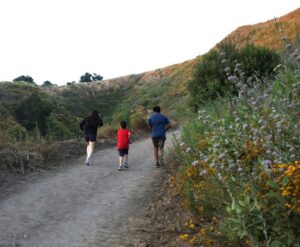 Whether you are in need of a quick nature walk with your furry friend, getting a workout on a trail run or simply enjoying some fresh air to decompress, Arroyo Verde Park hiking trails provide different ways to experience the peacefulness of its environment. 
After a few minutes of warming up on the trail, I begin to feel much better and it keeps me motivated during my weekend hikes. It takes me about an hour and fifteen minutes to hike roughly two miles of the trail loop. But it can also be a short hike if you choose to go on the trails on the lower part of the mountains. Sometimes I like to explore through other connecting paths that add to the adventure – which also means it adds more time to complete. It's fun going around the hills. I've caught different kinds of small birds playfully flying in and out of trees and shrubs. They're a source of natural entertainment.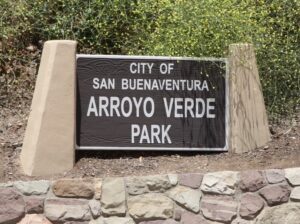 Some trails have an incline that gives you a good challenge up the hills. Then there are other trails I take to cool down while heading towards the back parking lot. In the summer, it gets very hot on the open trails so it feels refreshing to walk under the tree's shady sections. I enjoy hiking through the Arroyo Verde trails because it feels good to get away from the city rush and take in the respite that nature provides.
The cool ocean breeze is very soothing while walking under the sun's warmth. It's especially wonderful to stop and rest on the bench at the top of a hill. It has a beautiful view of the sea to the west where the afternoon fog makes its way inland over the city. On the other side behind the hill, you can see so much greenery surrounding the area. And, just as beautiful wildflowers are blooming after a super rainy winter, so is poison oak. Watch out for its leaves-of-three when stopping to smell the flowers. Hiking is supposed to be good for your well-being but getting an uncomfortable reaction from something of nature can affect your health. Have fun on hikes but be safe.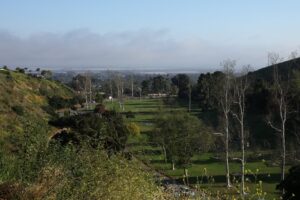 Typically, on the weekends or later in the weekday afternoons, there are more hikers sharing the trails. Since the trails are open all year long that means you can plan your hiking routine to any day that works best for you. And you can start anytime between 7:00am and 6:00pm seven days a week. 
Feel free to bring your dogs but they need to be on a leash when they're with you on a trail. If you plan to have your dogs off their leash, the big grassy area is designated for that on Tuesdays through Sundays between 6:00am and 9:00am, but not on holidays or if the park has a special event happening.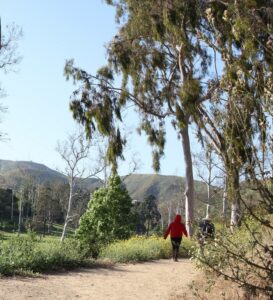 The main entrance to Arroyo Verde Park is at Foothill and Day Road. It's free to park your vehicle inside the lots Monday through Friday. On Saturdays, Sundays and on holidays, parking is $2 per hour or $5 maximum for all day. There's also free parking outside on the nearby side streets, which in some cases provide a bit of a warmup while you walk from your vehicle to a trailhead just a bit north of the main entrance.
It's a good thing the city of Ventura turned this land into recreational use more than 60 years ago. Otherwise, I wouldn't have the chance to experience this nice green landscape near my favorite blue tides.