Catalina Linn
The 2023 Ventura County Fair Youth Poster Contest Winning poster have been announced.
They are Catalina Linn of Westlake Village; 13 years old 1st place: Aarna Dalsania of Camarillo; 11 years old 2nd place: Briceida Lopez of Oxnard; 18 years old 3rd place.
The judges were:
Judging Panel: • Greg Wray – Rotary Club of Ventura & retired Master Illustrator for Disney • Neal Lassila – President-Elect of the Rotary Club of Ventura & 20-year veteran of The Walt Disney Company • Dr. Cesar Morales – Superintendent of Ventura County Schools • Chief Dustin Gardner – Ventura County Fire Department • Chief Darin Schindler – Ventura Police Department • Asst. Sheriff Andrew Salinas – Ventura County Sheriff's Office • Mayor Joe Schroeder – City of Ventura • Carley Logue – Visual Communications Expert for the Department of Navy / Naval Base • Mark Spellman – Radio Lazer • Peggy Kroener – Ventura County Youth Department Superintendent.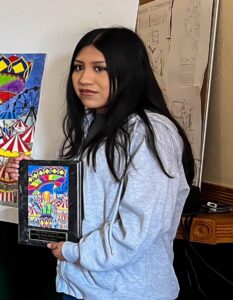 The poster will be used on merchandise, in advertising, and featured around the 2023 Ventura County Fair from August 2-13.