Alan Salazar: Chumash Tribal Elder, Mike Murray: Deputy Superintendent for Programs Channel Islands, Robert Schwemmer: Maritine Heritage Program Regional Coordinator, Harry Rabin: Field Advisor "Heal the Ocean"
by Patricia Schallert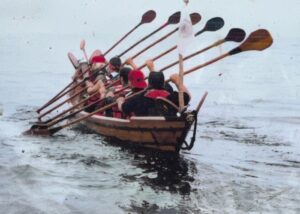 A free event was presented at Patagonia on June 15. Patagonia served food and drinks and their main focus was on building community awareness with a plan to build two Tomal canoes, and what that means to the Tataviam and Chumash Communities in Ventura. Patagonia also held a screening of the documentary "Chumash Powered" along with a fundraiser around the Tomol canoe builds.
Chumash tribal Elder Alan Salazar presented his life as a storyteller. As a Chumash Elder Alan Salazar, tells stories about his Chumash and Tataviam ancestors to anyone who will listen. He spoke about traditional plank boat building techniques to guests of Patagonia.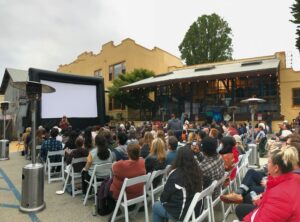 In his stories, Salazar, echoes words spoken by his Native American ancestors: tales of a grandmother oak, and the Sky Coyote, a rainbow bridge and how his Chumash and Tataviam tribes came to be. He presented his family story of the Tataviam and Chumash families who were brought to the San Fernando Mission around 1803 and he presented a lively explanation on the close extension of Indian tribes and Tomol paddlers crossing the channel to Santa Cruz Island.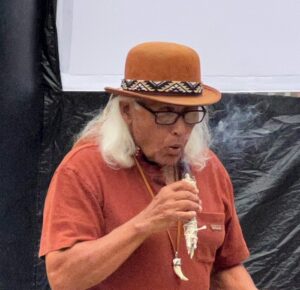 In his stories about the Tomol paddlers he reflects: "The Tomol comes to life in the dark of night and she helps connect her paddlers to one another, sensing energy even in pitch black waters as it crosses the channel to Santa Cruz Island." A Tomol canoe is a "Plank Ocean canoe" and two will be built in Ventura. The Tomol is traditionally made of redwood logs, large enough to build a canoe. Using traditional tools, it will be hollowed out carefully by removing the inner wood, leaving the outer layers intact to form the canoe. The exterior of the hull will be carved into a shape that will be streamlined and seaworthy with the crossbeams providing support and strength. Finishing touches of smooth sanding on the Tomol canoe surfaces will seal it and make it waterproof for crossing the channel. Traditionally Chumash people used natural materials like tar and pine pitch to seal the canoe and make it watertight.
Hundreds of years ago, the native island Chumash traveled these ancient waters for hunting, fishing, and trading.