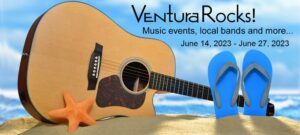 by Pam Baumgardner
VenturaRocks.com
I love summer so much!!! Longer days, more activities including live music and all the beauty that our county provides. I hope you'll take advantage of some of these events.
Free concerts in the park return to Constitution Park in Camarillo this summer with 24K Magic on June 24, the Kings of 88 on July 8, The 805 Social Club on July 22 and Garth Live on August 5. Residents are encouraged to bring low folding chairs, blankets and picnic dinners. Food trucks will be on site.
The 67th Conejo Valley Days will run Thursday, June 15 – Sunday, June 25 at Conejo Creek Park South (Janss Road off the 23 Freeway). Typically, the event runs four consecutive days, but this year it will be over two weekends. Live music includes performances from Mike Scully and the Weary Travelers, 805 Social Club, Colette Lovejoy Band and more. Admission is $10 (kids under five are free) and includes the entertainment, but not the carnival rides.
Chick Singer Night is switching locations to Namba Arts, downtown Ventura with Kimberly Ford, Karen 805, Sharon Hendrix, Annyett Royale, and Mary Scholz, on Sunday, June 25. And staying with Namba, they'll host "Ventura City Blitz" featuring local artists such as Blurry Stars (also their summer release party), Aaron Burch, the Late Knights, Dielectric, and Ardi on Saturday, June 17.
New West Summerfest lands at Moorpark College for two days, Saturday and Sunday, June 24 and 25. It's quite an eclectic lineup of performers such as Ilya Serov, B. Valentine, Gods of Rock, Mariachi Divas de Cindy Shea and more. Ticket information available at NewWestSymphony.com.
And of course, you'll want to mark off your calendar for which concerts you want to attend at this year's Ventura County Fair. There're only eight concerts this year on the Grandstand Arena stage: Midland, Patti Labelle, Collective Soul, Ashanti, Trace Adkins, 38 Special, Tesla and Dia de la Familia. And as always, the concerts are included in the price of admission to the fair. The fair runs August 2 – 13.
Quick Notes: Elvis Costello & the Imposters at the Majestic Ventura Theater on Wednesday, June 14; Duncan & the Dragonslayers, Stellar Ruins and Los Xiquenos play Bombays on Thursday, June 15; Barrelhouse Wailers will do an in store performance at Salzer's Records to promote their latest release, "Never Look Back" on Saturday, June 17; Topa Topa Brewing will host their 8th anniversary party on Saturday, June 17, at their Colt Street location with live music throughout the day; and Fausto Cuevas y la Moderna play a salsa evening of dance at Cantara Cellars on Thursday, June 22.Do you have any music-related news or upcoming shows you want help publicizing? Please send all information short or long to [email protected], and for updated music listings daily, go to www.VenturaRocks.com.