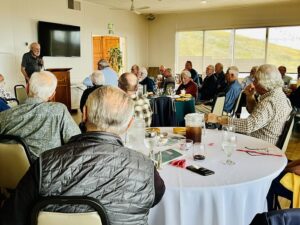 In this issue there is information regarding events at Portside Ventura Harbor. This is where we live. A wonderful place to live and the tennis court is right next to the building we live in so a 2-minute walk for me to go play.
In 2022, two city staff members formally complained to Human Resources that
Councilmember Mike Johnson had acted unprofessionally and in a hostile and bullying manner during city council meetings.
The city attorney retained an independent, third-party law firm to investigate the two complaints. After conducting a thorough investigation (which cost the City approximately $75,000), the law firm determined that Councilmember Johnson did act unprofessionally toward one of the employees in a hostile and bullying manner.
The Ventura City Council has voted (5-1) to admonish rather than censure Mike Johnson. This is less harsh than previously recommended at a closed door meeting where the council approved a recommendation to censure Johnson and remove him from his committee assignments.
The Strawberry Festival, held at the Fairgrounds, surpassed expectations by drawing an estimated 55,000 visitors to the event. While being successful, it also drew much criticism from locals for what seemed to be the lack of a comprehensive traffic management plan. I'm sure there were lessons learned, which will be enacted next year. Great to keep the Festival in Ventura.
The next large event at the Fairgrounds will be the X Games in July. To avoid some of the traffic issues encountered by the Strawberry Festival, the city will be much more involved in the X Games. Coordination between the City and the Fairgrounds is ongoing, and associated costs are included within not-to-exceed amounts. The total cost will not exceed $250,000, as presented to City Council in previous budget workshops. This includes all personnel costs for the Ventura Police Department, Ventura City Fire, and other city staff required to support the event.
The California Department of Food and Agriculture, provides oversight for the Fairgrounds that sits on state owned property.
Ventura's clothing company, Patagonia, has been rated the number one most loved company in the United States one more time.
Seven people were shot, two fatally, when gunfire rang out outside a downtown theater in Richmond where a high school graduation ceremony had recently concluded, causing attendees to flee in panic, weep and clutch their children.
A South Carolina gas station owner was charged with murder on Monday after allegedly shooting and killing a 14-year-old boy he falsely believed was shoplifting bottles of water.
The gunman who killed three people and wounded six others while roaming through his northwestern New Mexico neighborhood, was apparently firing at random targets. He was a local 18-year-old high school student.
Michigan Gov. Gretchen Whitmer gave final approval to a red flag law that aims to keep firearms away from those at risk of harming themselves or others as the state grapples with ways to slow gun violence in the wake of its second mass school shooting.
Michigan joined Minnesota to implement a red flag law after Democrats in both states won control of both chambers and the governor's office in November. New Mexico previously was the last state to pass a red flag law in 2020. Something needs to be tried to stop the gun violence in this country. Everyone owning guns is certainly not doing it.
Nevada's Joe Lombardo became one of the first Republican governors to enshrine protections for out-of-state abortion patients and in-state providers, adding the western swing state to the list of those passing new laws to solidify their status as safe havens for abortion patients. A Republican hero.
I find this to be absolutely disgusting. Former president Donald Trump commemorated Memorial Day by comparing his battles against "fascist 'pigs'" and "lunatic thugs" to the more than one million US soldiers that died on the battlefield. Trump took to his Truth Social platform to deliver a maniacal all-caps rant. Families of veterans killed in battle should feel the same way.