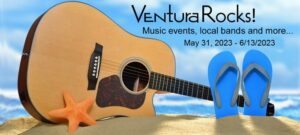 by Pam Baumgardner
VenturaRocks.com
The Wild Oaks Country Music Festival is Saturday, June 3, with Craig Morgan, Cam, Chayce Beckham, Justin Honsinger, Chris Johnson and the Hollywood Hillbillies. This one will be held at Conejo Creek Park South in Thousand Oaks and it's presented by the Rotary Club of Westlake Village with 100% of net proceeds going to support non-profit organizations locally and globally including the U.S. Military Veterans, First Responders, Human Trafficking, and community needs. Advance tickets available at WildOaksCMF.com.
The Ojai Blues Fest returns to the Ojai Art Center for a day of blues and roots music on Saturday, June 3, featuring Shawn Jones, Celso Salim & Darryl Carriere, Chuck Strong, TD Lind & the Aviators, Smokey & Friends, and the Brothers Marsh. Tickets may, or may not still be available the day of the show, so it's encouraged to secure your tickets via EventBrite.com.
Ojai Music Festival takes place June 8 – June 11 at a couple of different venues, but mostly the Libbey Bowl. A number of events are free and a number of ticketed events are already sold out. The best way to plot your week is to visit the official website at OjaiFestival.org and again, don't expect tickets to be available the day of, purchase your tickets now.
The Ventura County Concert Band will perform a free concert at the Ventura High School Auditorium on Sunday, June 4 at 3 pm offering "pop" tunes including selections from Stevie Wonder, Henry Mancini, The Beatles, Aladdin and more.
New dates at our local venues: Bob Marley's son, Julian Marley, has been added to the Libbey Bowl's concert line up for June 16 with the Bad Seeds opening; Daughtry was also added for Sunday, September 17. Speaking of Bob Marley, the Original Wailers will play the Ventura Music Hall on Wednesday, October 11 and Sun Room was added for November 19 at Majestic Ventura Theater.
All Kinds Studios continues to provide live music to all ages in a sober space in Zander Alley downtown Ventura. Saturday, June 3, they have The Illegal Aliens out of Santa Fe, New Mexico, along with How to Live with Robots, and Spaceyy. If you'd like to keep up on their schedule, it's best to follow them on Instagram.
Quick Notes:
Leashless Brewing will be trying out singer/songwriter open mics with the first one Thursday, June 1; Michael Henszey will perform in support of his new EP release of Fly Away at Namba on Saturday, June 3; Shane Alexander, Renee & Jeremy, and Kat Sophia play Ojai Greater Goods on Sunday, June 4; The Local Love Project fundraiser is Sunday, June 6 with Kelly's Lot, Scott Detweiler and Bobby Hart at the Portside Ventura Harbor Clubhouse; Michael Falcone does Sinatra at the Manhattan in Camarillo on Thursday, June 8; and there will be a Burch Studios Showcase at the Ventura Theater on Saturday, June 10.
Do you have any music-related news or upcoming shows you want help publicizing? Please send all information short or long to [email protected], and for updated music listings daily, go to www.VenturaRocks.com.