A work out known as the "Murph."
by Patricia Schallert
Every year on Memorial Day, athletes from around the world, gather at Crossfit affiliates, military bases, and local parks to do a work out known as the "Murph" and as they work out, they remember those who died while serving in the United States Armed Forces. This Memorial Day tradition found many local Ventura athletes joining for their 7th year, at the Vent, located in Ventura to honor and support the Vent's long-standing relationship with the military.
The tradition was born out of CrossFit 's Hero workouts, which were created in honor of men and women who have died in the line of action, or while serving their country or local community.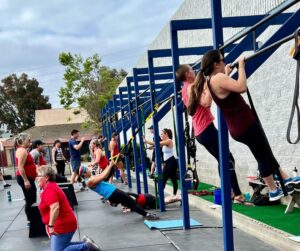 Perhaps the most well-known CrossFit hero work out is the "Murph workout", named after Lieutenant Michael Murphy, who died in Afghanistan, in 2005, while serving his country. The work out is long and grueling, but you won't hear athletes complain. Instead, the athletes show up to pay their respects and honor those who have made the ultimate sacrifice for our country. Joe Saenz is a 72 local athlete Veteran, a grandfather and great grandfather who honors his friends lost in the Viet Nam war. He commented that "this workout on Memorial Day is his way of remembering them and keeping then in his heart."
Shelly Hurguy believes that the "Murph" workout is like " a wave and about the community." When she thinks about what Memorial Day is all about, she feels "motivated and then pushes herself harder without complaining".
The "Murph" work out specifies that athletes can "partition the pull ups, push-ups, and squats as needed". This presents a rare element in a CrossFit workout as most athletes are required to finish all repetition of an exercise before moving onto the next one. In "Murph", the run portions must be done as a sandwich around the reps, and athletes may break up the pull ups, push-ups, and squats, however they like.
Spending a bit of time thinking through a rep scheme, helps both the newbie athlete and veteran athlete succeed in this workout. For a beginner athlete, this workout helps them feel confident as they attempt a work out that on paper, looks intimidating, but when broken down can be quite manageable. For the veteran athlete, it can help them learn about pacing and strategy to get the best possible times.
For seven years, Ventura Community Athletes of all ages have come together on Memorial Day to the Vent, to participate in one of Michael Murphy's favorite workouts, known as "Body Armor". With the sole purpose to honor this focused warrior, and great American, who wanted nothing more in life that serve this great country and the beautiful people who make it what it is.
Bree Cochran the sole owner of the Vent comments that she "supports the older athletes who need some modifications and younger athletes who need challenges that hard workouts bring. She is committed to the workouts for all , especially on Memorial Day where the community can come together as a group and spend time honoring the men and women who have died in the line of action or while serving their county or local community.
Additional information http://www.Sugarwod.com