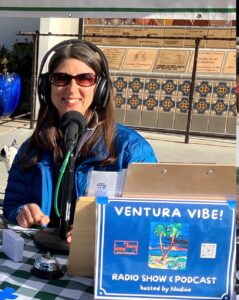 As Ventura cruises into the summer, May and June are very busy and exciting months for CAPS Crews with a variety of productions including City press conferences for the upcoming X Games and grants for Ventura Water Pure treatment program, two State of the City presentations with a live and streaming presentation at the Museum of Ventura County hosted by the City of Ventura and one at the Crown Plaza hosted by the Ventura Chamber of Commerce. CAPS is also recording and live streaming graduation ceremonies at Ventura College and at all VUSD high schools: Buena High on June 14, Ventura High on June 15 and El Camino and Pacific High Schools and VACE on June 16.
The fun continues in the coming months with CAPS producing multiple projects supporting Ventura County's 150th Anniversary celebration – 150 days of events starting in June and culminating with the State of the County presentation in October. CAPS is collaborating with the Museum of Ventura County to produce a series of programs for the county celebration including "Interviews with Innovators" with engaging discussions hosted by museum director Elena Brokaw featuring fascinating innovators throughout the county; "Feast or Flop" a tasty menu celebrating the savory unique heritage of agriculture and cuisine in Ventura County; "Ventura Voices" selected Oral Histories from the vast museum archives and more.
KPPQ Producer of the Month Nadine Piché, longtime Ventura resident and host of Ventura Vibe!, joined KPPQ – CAPS Radio in 2017. She heard about CAPS Media through her son who had taken a digital filmmaking class one summer. With her interest in podcasting she asked for recommendations on local resources. She learned about KPPQ. "I could learn right there. I hadn't thought about radio. But of course! I took the introductory class. I wasn't sure if radio was for me. There were so many buttons! But I stuck it out. And I'm so glad I did." She produced her first show in the KPPQ studio in January of 2018. With so many great ideas she launched two radio shows/podcasts at KPPQ-LP 104.1 FM: A limited series titled Spotlight on Special Education and an ongoing weekly series, Ventura Vibe! Nadine says "Both shows taught me so much about production and the process of putting a show together. The best part of the process is connecting with people in the community and getting to ask lots of questions." Ventura Vibe! currently airs on Mondays at 2pm, Tuesdays at 8am, Thursdays at 1pm and Saturdays at 3pm on 104.1fm and on myTuner. Both programs are featured on the KPPQ Podcast network, a plus for KPPQ community producers and listeners. You can find her podcasts at capsmedia.org/podcasts and tune in to KPPQ at 104.1fm or on the myTuner app.
CAPS' channel 6 presents programming created by and for the public including community information programs, faith-based services and more. CAPS manages and presents government meetings at City Hall including city council, design review, general plan advisory committee and planning commission on channel 15 which also features education and information programs including those by El Camino High School students.
To learn more about CAPS, visit capsmedia.org. CAPS Media City Council Presentation 2023 video presents an overview of the organization. Additional information on the CAPS website includes links to programing and information regarding reopening of the CAPS Media center to the public.