Photos by Patricia Schallert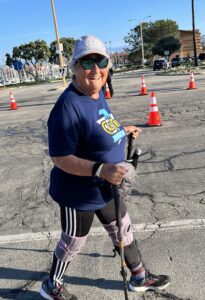 On May 7, a triathlon was held in Ventura. It was the perfect Ventura weekend for the event. The race had 14 separate events and 2 different starting points.  Every event that included a swim discipline started at the beach. finish line.  Many of the athletes familiarized themselves with the bike and run course by driving or riding it prior to the race.
It included 7 Olympic distance events and 7 Sprint distance events. Typically, the swim and run distances are standard but the bike distance varies from race to race.
Several seniors participated including Carol Humphrey. She's 83 years old and she loves the 5k races.
Ventura Triathlon