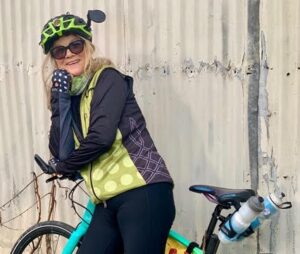 Offers a friendly, safe place to explore the bicycle as an alternative form of transportation.
Free test rides on the latest variety of electric assist bicycles. Both rear hub drive and mid-drive. Come experience the difference and see why the spread in price is warranted.
What inspired Shelley to start this business?
In 1982 she trademarked and imported for the first Italian made Quadricycles into California. The factory name at that time was "JOMARK." She trademarked the name "Pedalina® " and opened a dozen rental businesses in Ventura and Santa Barbara, CA.
Shelley Sund, direct descendant of a Washington State homestead family, moved from Seattle to San Diego and imported the first sea container, one of many and was on her way. Trademarking, talking to Franchise companies, and building up fleets and business locations all around. In 2003 she performed a corporate name change from Cycles-4-Rent, Inc. to Ventura Bike Depot, Inc which has been successfully in operation at 239 West Main Street from 1994 to present.
After forty-one years of building and evolving the bicycle business, Ventura Bike Depot has the advantage of a full-service bike shop with new bike sales, repairs & tune ups, plus rentals. Situated right on the bike path system, VBD has an identity all its own with great knowledgeable staff and friendly service.
Shelley Sund, CEO of Ventura Bike Depot, Inc.
Founding Member of The Ojai Bicycle Coalition (1999)
Cycle California Coast (2017)
NBDA Natonal Bicycle Dealer Association (Since 1982)
Channel Islands Bike Club member
Bike Ventura member & Donor
Speaker at the Womens Economic Ventures (WEV) in Santa Barbara, has drawn her advice to always be able to mold and change your business plan on the spot as this can be very useful, especially when you can identify that it may not be working as well and needs an adaptation or mutation.
A background of being tenacious and not accepting failure as an option has been a guiding force.
Remember the book about the story of "Mrs. Fields Cookies?" Hearing how even her own husband who was a financial wizard, told her it wouldn't work but she did it anyway? Well…. LOL
Even during the recent pandemic and past economic downturns, this business has flourished.
.
My target client/customer is anyone who loves to incorporate bicycles into their lives, somehow, someway. The motto is essentially "More butts on bikes" whether that's for car replacement, a second car, recreational enjoyment, training, exercise, etc. bicycles are efficient, healthy, green and just plain FUN!
Open Everyday 9-5
239 West Main Street, Ventura, (805) 652-1114
[email protected]
Website: http://www.VenturaBikeDepot.com.