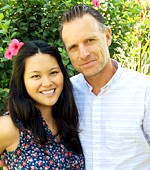 by Ross Williams
Southern California's real estate market is renowned for its competitiveness, especially when it comes to buying and selling businesses. However, Ian and Jamie Lashley have found their passion. They operate The Lashley Group, a boutique firm specializing in business brokering and residential real estate.
Ian's journey began during the 2008 market crash when he decided to sell his retail clothing business. This experience led him to discover the world of business brokering, where he could leverage his skills and knowledge to assist other entrepreneurs in achieving their dreams. After gaining six years of experience with other brokerages, Ian took the plunge and established his own business brokerage firm.
While the past few years have proved to be a great for real estate, the current market has seen a significant slowdown in house sales. Consequently, Ian's focus this year has ben on the flourishing business selling side.
Ian specializes in selling various types of businesses, with a particular emphasis on service, manufacturing, and the food and beverage industry. Many of these transactions involve negotiations surrounding purchase price, leases, and assets. Ian's role primarily centers around mediating these negotiations, which can be influenced by factors such as financing, training, and the transition period with the previous owners. Maintaining confidentiality is crucial in business sales. Most sellers prefer to keep the sale hush-hush, as they don't want to jeopardize client trust or worry their employees. Prospective buyers often need to sign a non-disclosure agreement (NDA) to inquire about a business for sale.
Determining the value of a business requires an assessment of its potential value and current worth. Ian examines profit and loss reports, tax returns, and cash flow to understand the business's financials. This enables him to evaluate whether a business is underperforming and ascertain its true value.
Buyers come from various backgrounds and industries. Plumbers may acquire other plumbing businesses, while individuals may opt for retail, wholesale, or restaurants. Private investment groups might purchase businesses and retain the owners for a transitional period to learn the ropes. These groups often specialize in specific business types or industries like plumbing or manufacturing.
Ian and Jamie possess a keen eye for identifying individuals with the entrepreneurial spirit. The most rewarding aspect of their job is helping people achieve their dreams and being part of their clients' journeys. Business Brokerage website: www.TLGbusinessbroker.com | Real Estate website: TheLashleyGroup.com | (805) 535-3693 | @TLGbusinessbroker