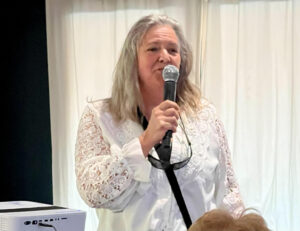 by Patricia Schallert
Michel Peterson, sponsored  by " Friends of Ventura Harbor", presented her life as a shepherdess on Santa Cruz Island on April 19th at the Greek Restaurant in the Ventura Harbor. Her book titled "Once Upon an Island", is a story of her love affair with Santa Cruz Island located 31 miles off the coast of Ventura.
She arrived on Santa Cruz Island in 1979 when her future husband to be, was looking for a cook and William Peterson was looking to operate his sheep venture on the island.
Landing on a dirt airplane strip, she and the group she was traveling with, piled into a Dodge truck and descended into Smugglers Cove with its' spectacular beaches and the isolated sheep ranch know as Scorpion Ranch.
In the beginning, it was difficult for Michel, where there were  hazards, rough conditions on an isolated sheep ranch and no electricity.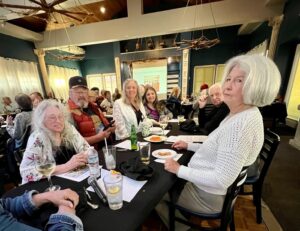 Being from London, she writes that "this adventure became more of a personal journey" for her. The Island was not friendly to women but Michell developed skills not only as a ranch cook but also learned  sufficient skills to become the islands head shepherdess. Long hours of physical labor alongside  "Pete" and despite their 32 year difference in age, William "Pete" Peterson married Michel Ravenscroft.
In her oral presentation, she mentioned a little history of Scorpion Ranch where she lived. It was constructed in 1886 and was in full operation by 1885. Scorpion Ranch was where Michel would begin her  journey. The ranch  was nestled in the shadows of the southern facing slopes and beneath the cliffs of Santa Cruz Island.
The rocky beach was a stone's throw away from the ranch, which was a mixture of old and ancient. Santa Cruz Island, she wrote, is  known for "it's diverse landscape and extraordinary range of flora and fauna." and at time of her journey, it included wild pigs, foxes, sheep, cattle and wild horses.
While on the Island, Michel learned to adapt to the difficulties of the isolated island life through self-reliance and by making due with what was available. It was " exciting and also could be very lonely".
The wooden bunkhouse, was home to ranch hands who tended the flocks of sheep, cattle and crops. The Scorpion and Smugglers Ranches were the bases that supplied much of the food and hay for island operations.
Michel mentioned that sheep ranching during her time there was for meat and wool. The descendants of the Gherini family ran the ranch on the eastern end of Santa Cruz between 1936 and 1984.
Her story of her love affair on Santa Cruz Island was riveting from the time she arrived in 1979 to when the last sheep were loaded aboard the barge Double Eagle at Scorpion Beach and ended when the "Double Eagle" off-loaded the last of the sheep at Port Hueneme.
The Gherini era ended in February 1987 when the National Park Service acquired the last interests from the family.
Today,  the National Park Service is preserving the historic area so visitors will have a chance to remember the unique part of the island's past.
Michel became an artist after she left Santa Cruz Island and worked to create an art form that conveys some of the magnificence of nature. It is her way of expressing gratitude for the abundant natural wealth she received from Santa Cruz Island and if you wander around Ventura Harbor, Michel installed handmade ceramic tile mosaics of local marine wildlife which "expresses her dreams and vision from inception on Santa Cruz Island to its completion in a creative expression of nature and her love affair on Santa Cruz island. "
Her ceramic art, located in Ventura Harbor can be seen on page X.
Michel's new book which is still in the works is called: "Santa Cruz island: The Last Shepherdess."