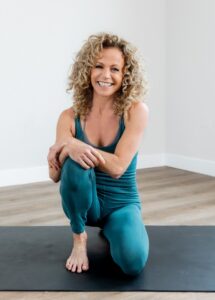 May 1st marked the official opening of Portside Yoga located at 947 Schooner Drive – Unit 211 in Ventura. This beautiful second-floor studio directly overlooks the harbor and captures a perfect view of sailboats, wildlife, and a perfectly framed postcard sunset every evening.
Yoga classes for all levels, all bodies, and all abilities will be offered, as well as Barre Sculpt and Cardio Barre. Special Events will occur several times a month on the weekends, with Portside Yoga's first Open House occurring May 6 at 7:30pm .
Portside Yoga's owner Donna DiMeo Sorce, has been a professional Yoga Instructor for 23 years in the Los Angeles and Ventura County areas and is registered with the Yoga Alliance.
Donna is also a Master's Level Reiki practitioner. For the past 8 years, Donna has led yoga classes at The Ranch Malibu, a world-renowned luxury fitness, health, and wellness retreat in the Santa Monica Mountains.
Prior to her "second career" diving deep into yoga, Donna was a Professional Dancer on Broadway. Donna traveled the world appearing in many noteworthy productions. Donna's most memorable gigs included her run in the original cast of
Jerome Robbins' Broadway and then a wild two seasons as a Weekend Update
Dancer on Saturday Night Live. Donna also toured with National and
International companies in the musical, West Side Story and appeared on the Tony Awards several times.
Donna is a proud Brooklyn-born New York City native who makes regular trips back East to see family, friends, and old dance partners. But these days, Donna is thrilled to finally call beautiful Portside Ventura Harbor her home, where she shares an apartment, and a 45' classic yacht, with her fiancé, Michael – who she met in the Portside Hot Tub – no kidding!
Yoga has created a community for Donna no matter where her journeys lead her. She believes, "Once we're on the mat, we all speak the same language!" Her intention for all her students and clients is to create a sacred space where a connection to our bodies and breath can occur. She strives to create space where everyone can unplug from distractions, find balance, and always feel a little better when they depart than when they arrived. Donna enjoys sharing her love and enthusiasm for the practice of yoga, and is fulfilled by every "aah-ha" moment that blesses her studio.
Events occurring monthly will include Sound Baths, Reiki/Restorative Yoga, Special Workshops, and Sunset and Full Moon gatherings and waterfront meditation.