A slight drizzle didn't stop the parade from entertaining hundreds that lined Main St. Photos by Breeze staff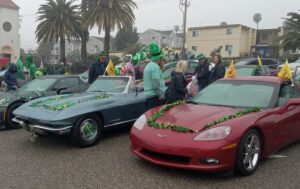 With a little luck of the Irish and huge community support, the 2023 County Ventura St. Patrick's Day Parade went off spectacularly.
Braving cloudy skies and light showers, thousands of smiling faces showed up on the morning of Saturday, March 11, to line the parade route on Main Street in midtown Ventura. After the event, the parade planning committee wrote a letter to express their great gratitude and relief at the strong turnout despite the questionable weather.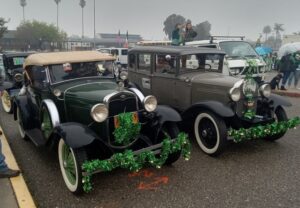 "The theme was 'Let's Celebrate,' and we did!" committee co-chairs Nan Drake, Jim Monahan and Brian Brennan said.
"We were overwhelmed that, despite the threat of rain and a wee bit of drizzle, this community event roared back in full force with families sitting under umbrellas to watch one of our best parades," they wrote. "Yes, there was a bit of a drizzle, but we would like to personally and publicly thank every single person and family who came out to enjoy truly Irish weather on Main Street in Ventura for the 2023 County Ventura St. Patrick's Day Parade. … It was simply sublime."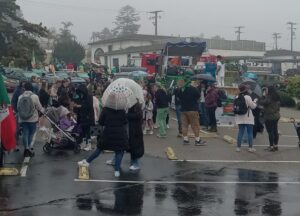 All rejoiced as the 60-plus parade entries made their way down Main from Lincoln to Fir, with spectators cheering and basking in the diversity of a parade that included everyone from elected officials and historic local families to marching bands, dance troupes and youth groups.
The parade grand marshal this year was Ventura Elks Lodge No. 1430, celebrating its 100th anniversary! A wonderful community organization, the Elks Lodge supports local programs for veterans, youths and many others and has been the lead sponsor of the St. Patrick's Day Parade since it began in 1984!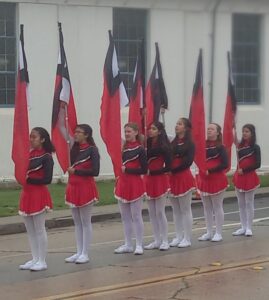 Parade entrants compete for awards presented by a panel of judges led this year by St. Patrick's Day Parade Committee member James Lockwood. This year's other judges were Elks Lodge representative Rhonda Catron; Dr. Richard Rush, retired president of California State University Channel Islands; Celina Zacarias, CSUCI's director of community and government relations; and Clint Garman, representing Ventura County Supervisor Matt LaVere.
The following are the winners of the 2023 County Ventura St. Patrick's Day Parade:
Color Guard: Blue Knights CA XVII.
Bands: Oxnard High School Marching Swarm (high school); Cabrillo Middle School Jazz Band (junior high school); and Gold Coast Pipe Band (adult).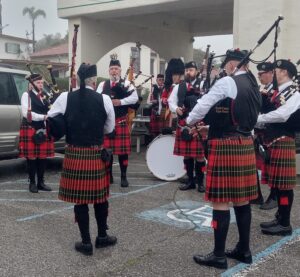 Families: The McGrath Family.
Clubs and Organizations: Ventura Elks Lodge No. 1430 (adult); Claddagh School of Irish Dancing (youth); and Totally Local VC and the Local Love Project (nonprofit).
Vehicles: Ventura County Model "A" Ford Club (antique); Southern California Corvairs (classic cars 1950s or later); Ventura County Corvette Club (special interest auto); Topa Topa Fly Wheelers (tractors); Bunnin Chevrolet of Santa Paula and Fillmore (individual vehicle); and J.W. Enterprises (fire truck).
Commercial/Retail: The Grape Ventura "House of Jazz and Spirits" featuring the Phoenix Big Band.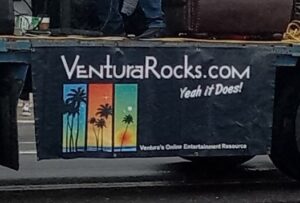 Media: Drastic by Design Productions.
Novelty: Ventura Yacht Club.
Walking Entries: Unique Diamonds Competitive Cheerleaders.
Most Irish: John and Sally McNally with Flags of Ireland.
Environmental: Agromin.
Restaurants and Pubs: Santa Cruz Market.
Government Agencies: United Stated Coast Guard.

Mayor's Trophy: Surf Rodeo.
Best in Parade (Arnold Hubbard Perpetual Trophy): Cabrillo Middle School Jazz Band.