Heavy rains were predicted for the night before the annual candlelight tours, at the Olivas Adobe last December but a small gathering of artists came prepared with umbrellas, raincoats, gloves, and scarves for an evening of Nocturne painting.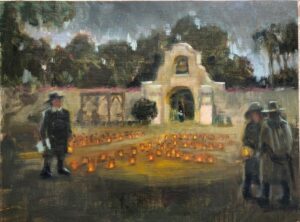 Anette Power set up her easel next to the adobe, under the eaves for a lovely view of the lanterns and costumed docents who pull you back in time with stories and traditions from the early 19th century.
Laura Jespersen and Lisa Mahony set up in front of the Adobe for a view of the large poinsettia illuminated by the holiday lights and candles shining through the windows of the historic rancho home.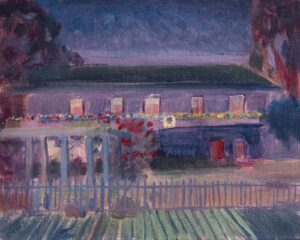 Artist Lisa Mahony was asked why painting at night ~ her reply :
"I like painting at night because it captures a side of the world that few people paint. It makes for a magical evening!"
For more information about events, exhibits, and tours at the Olivas Adobe go to www.cityofventura.ca.gov/OlivasAdobe