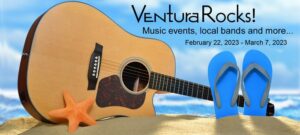 by Pam Baumgardner
VenturaRocks.com
Between local promoters and the Canyon Club, there are a lot of great shows coming to the Oxnard Performing Arts Center. I don't need to tell you that it's pretty great to be able to take in a show locally as opposed to traveling to Agoura Hills, plus they have quite a mix of genres to choose from including Grupo Bronco on Friday, February 24; a Pink Floyd tribute band, Which One's Pink on Saturday, February 25 (opening acts are Prima Donna Rising & Zack Kirkorkian); the Ventura Music Festival presents Mnozil Brass on Thursday, March 2; The 3 Divas: Pops, Kuh & Jaya on Saturday, March 4; and Los Lobos on Sunday March 12 with special guest Gaby Moreno.
Namba Arts welcomes Ventura City Blitz on Saturday, February 25 for an evening of live rock, and eclectic music from several local artists including Sean Alan, Aaron Burch, The Late Knights, Tyler Indigo and more, then the following weekend, it's a night of reggae with Bombafiya and Singular Nature on Saturday, March 4 followed up with a Sunday show featuring cool improvisational music from Boom Duo.
The Museum of Ventura County will play host for another brilliant Camerata Pacifica show, Emi Ferguson and Ruckus Play Bach. With a slew of period instruments including theorbo, baroque guitar and bassoon, viola da gamba, and harpsichord, they'll explore Johann Sebastian Bach's genius from multiple angles, bringing to life the limitless colors and nuances of his music.
Punk in the Park is coming up fast with Pennywise, Suicidal Tendencies, the Bouncing Souls, Strung Out, Fear, Dwarves and more. There will be two stages (they say set times will not overlap) and the day includes 3 hours of unlimited beer tastings. The event falls on Saturday, March 25 with tickets on sale through the promoter's website at PunkInThePark.com.
Quick Notes: Tickets are on sale for Night Demon's record release show at Bombay's on March 16 with Romper opening; tickets are also on sale for Boots & Brews starring Chris Young on May 7th at Surfer's Point Live; the reschedule Dave Alvin & Jimmie Dale Gilmore at the Ventura Music Hall is Thursday, February 23; it's old school punk night with Roman's Weirdos at Gigi's on Saturday, February 25; Shawn Jones along with Sam Bolle play the Ojai Underground on Saturday, February 25; Margarita Villa will have music on Sunday, March 26 with CRV (acoustic); Swing Shift play the Sportsman in Camarillo on Sunday February 26; Angelo Moore's Dr. Madd Vibe and the Missing Links returns to the Grape for a date with Barrelhouse Wailers on Friday, March 3; and The White Buffalo returns to Ventura for a show at the Majestic Ventura Theater on Saturday, March 4;
Do you have any music-related news or upcoming shows you want help publicizing? Please send all information short or long to [email protected], and for updated music listings daily, go to www.VenturaRocks.com.