The swearing in of the Board of Directors executive committee was officiated by Breeze publisher Sheldon Brown. Photos by Patricia Schallert
On Saturday, January 21, the Olivas Adobe held their annual celebration and installation of docent volunteer board members. Held at the Ventura Marina Park Clubhouse it featured happy hour and a wonderful dinner prepared by the docents. It was a time for fellowship with old friends and plans for the coming year.
The installation and swearing in of the 2023 Board of Directors executive committee was officiated by Breeze publisher Sheldon Brown. Sworn into service by him were returning Mary Thompson – President, returning Bob Sandler – Vice President, Marsha Brumana-Secretary and Glenda Jackson-Treasurer. Officers serve a one-year term.
Sheldon stated "It is now my pleasure to swear in the new board's elected officers."
"Please raise your right hand and repeat after me. I promise to conduct myself with dignity and decorum when representing the Olivas Adobe Historical Interpreters and the City of Ventura. I swear to uphold the By-Laws of the Olivas Adobe Historical Interpreters and to do my job as an elected officer to the best of my ability. "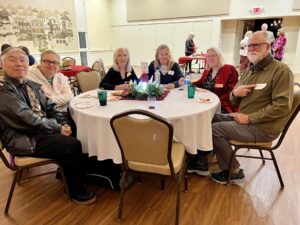 He concluded by addressing the large crowd "it is now my pleasure to present to you the Olivas Adobe Historical Interpreters elected and installed officers for 2023. Thank you, everyone for attending tonight's Olivas Adobe swearing in ceremony and congratulations to the new board members."
Mary Thompson went on to say "I came to the Olivas for the first time with my 4th grade class from Arnaz Elementary School in Oak View. My sister was married at the Adobe in 1977. I have been a docent for many years and am honored to be your president. I am looking forward to once again serving as president and keeping the history of the Olivas Adobe alive."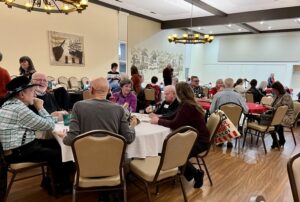 The docents and board members perform a most valuable service of not only protecting the historic Olivas Adobe, but also keeping relevant by planning and staffing its many activities year-round. The docents are chiefly responsible for keeping alive the rancho's many seasons of history and celebrate the skills, traditions and heritage that belong to Ventura's many peoples.
The Board of the Olivas Adobe Historic Interpreters oversee the docent operations and ensures that they run smoothly and successfully. Thanks to the OAHI docents, the Olivas Adobe continues its long tradition of hospitality by hosting a full calendar of diverse cultural events for all ages including the very exciting the wonderful Adobe Music Under The Stars.