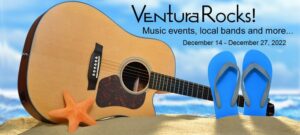 by Pam Baumgardner
VenturaRocks.com
Happy Holidays to you and yours! I love the lights, the warm jackets and colorful scarves, family and friend get togethers and especially the music that goes with it all. Don't forget to make your plans now for your New Year's Eve celebrations. Most venues will have a special party, but some will include tickets and reservations, so do your due diligence. I'll have more specifics next time around, but you're welcome to go to VenturaRocks.com website, and on the calendar page, search "NYE Party" to see what's lined up so far.
It seems Ugly Sweater Parties won't be going away anytime soon. I'm seeing a number of them lined up leading up to Christmas. Strey Cellars has one on Friday, December 16 with Holger's Heroes, Naughty Pine in Westlake has Lynnzee Fraye on Friday, December 23 and the Raven Tavern has the Doc Rogers band also on Friday, December 23.
Other holiday themed events include Michael Falcone Christmas songs at the Manhattan in Camarillo on Thursday, December 15, Tilford Jackson's Christmas Sing-a-Long will be held at the Grape in Ventura on Thursday, December 22, Paulie Cerra, a Blues Christmas on Friday, December 23 at Cantera Cellars, Smitty & Julija will sing carols at Feros Ferio Winery in Ojai on Friday, December 23, and Bella Lucarelli performs a Christmas special at the Twist on Main on Christmas Eve afternoon.
Ventura High School Winter concert series runs Wednesday and Thursday, December 14 – 15 with their Wind Ensemble I, Concert Band and Jazz performing on Wednesday, and the following evening it's their Orchestra I, String Orchestra II Honors and Full Orchestra. Across town the Bulldogs at Buena High will also have their Winter Concert which will be held on Thursday, December 14 with music from their music ensembles along with some soloist performances. Show your love to one or both of these schools by showing up and supporting our younger musicians here in town.
And speaking of supporting local high school music departments, Namba will host "Rock 'n' Roll High" on Sunday, December 18 with Burch Studio presenting a showcase for middle school and high school kids. Since 2004, Rock and Roll High has been southern California's premier teen band program. Students have gone on to perform at Coachella, Jimmy Kimmel, and many successful bands in the music industry. The founder of Rock and Roll High, Aaron Burch opened Burch Studio in Ventura where he teaches the course today.
And the only live music event I've found, year to year on Christmas day, features Saint Pierre who had done this previously at Amigos, but now will be performing along with Rebekah Scogin at Vaquero y Mar from 4 – 7 pm.
Quick Notes: Shawn Jones performs the Deer Lodge on Friday, December 16; Looking West plays the Downtown Stage at California and Main Streets on Saturday, December 17; The House of Dance will be hopping on Sunday, December 18 with Flattop Tom and His Jump Cats performing; Ben Garcia plays Surfer's Point Café on Sunday, December 18; there's a special show at All Kinds in Zander Alley on Monday, December 19 with the Addalemon and Halibut Head out of Sacramento performing along with Greater View and the Derivatives; and finally Denny Seiwell, founding member of Wings, returns to Ventura for a date at the Grape on Wednesday, December 21.
And finally, my condolences go out to Namba Arts as they mourn the passing of their founder, Julia Frances Campbell Namba earlier this month, as well as to the many fans of Mark Searcy, aka Hip E. Mark.
Do you have any music-related news or upcoming shows you want help publicizing? Please send all information short or long to [email protected], and for updated music listings daily, go to www.VenturaRocks.com.