The program is a highly specialized form of experiential therapy. And at ROH 5: Clinical Director Lynn Dorgan and "Sister" connect at Reins of Hope.
by Amy Brown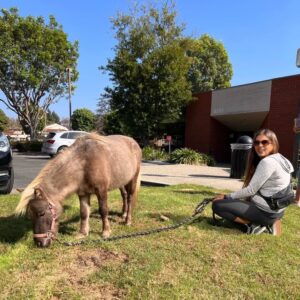 Horses are magnificent creatures, and their appearance in movies and art depict their strength, beauty and grace. What you don't see as often is their portrayal in a powerful form of therapy. However, non-profit Reins of Hope in Ojai has been providing Equine Assisted Psychotherapy (EAP) throughout Ventura County and surrounding areas with these intuitive animals for those with physical, mental and emotional challenges since 2006. What started with three horses and two humans has grown to be a full stable of ten horses and a full team of therapists and supporters. The team is certified by the Equine Assisted Growth and Learning Association (EAGALA), and provides services onsite and at various locations with a grant for veterans struggling with PTSD, as well as cancer survivors, and serving at-risk groups like trafficked children and survivors of domestic abuse.
The program does not involve riding the horses—it's a highly specialized form of experiential therapy in which the horses and individuals interact directly to build self-esteem, self-worth and heal trauma. They are committed to a collaborative approach between the client, mental health professional, equine specialist, and horse. According to Lynn Dorgan, original team member and current Clinical Director, it's not about horsemanship, it's about building relationships. "They say 'don't show a horse you're nervous', but we say exactly the opposite: show a horse you're nervous! Our participants need to walk into the arena and have their insides match their outsides."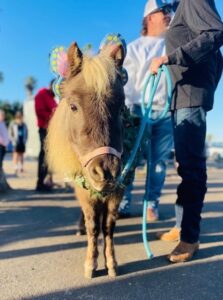 Dorgan shared some examples of therapeutic approaches with the horses when they visit the Ventura County Juvenile Center. The team sets up powerful guided experiences to help the children work on goals, identify issues and enact solutions and plan for life outside of their detention there. "We will ask the kids what kind of negative self-talk they have. You'll hear the most horrendous things, but when we have them say it directly to a horse, face to face, as if looking into a mirror, they can barely say them to the horse, and then they realize how damaging that self-talk can be." said Dorgan. According to Dorgan, the program is also very successful in helping sexually trafficked children. "The number one thing is to help them build what is for many of them the very first relationship they've ever had that is safe, and that is with the horse."
The program supports the needs of adults with a range of solutions as well. A female navy veteran after eight weeks of sessions with Reins of Hope shared, "My experience here was needed to continue on my path to wellness. I feel much better, mentally, physically, and emotionally. Working with horses is a dream come true. This program has enhanced my life in many ways."
According to Executive Director Kristan Adams, the mental health crisis is at an all-time high. "Suicide is the number two cause of death for veterans under the age of 45 and the number one most preventable. Equine Assisted Psychotherapy, Equine Assisted Learning, life coaching, the tools we humans need to find our own safety, relationship building, and mindfulness, are available through our programs," said Adams. "Our team (four legged therapists included) are in the arena for a reason and a purpose—each one of them actively cares deeply about each client."
A 25 year old Veteran shared, "This was such an amazing experience which is hard to put into words. I cannot be more thankful for the opportunity. It was awkward at first but I learned to love it and be comfortable with asking for help and sharing my experience."
The non-profit would welcome donations and volunteers to help with the horses' care in support of their mission of cost-free mental health services to underserved communities.
A Vietnam veteran after completing the program said, "This is the first time I've felt welcomed home."