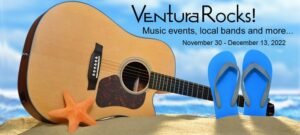 by Pam Baumgardner
VenturaRocks.com
With Thanksgiving under our collective belts, the holiday season is in full swing and there are several special events to help raise your spirits whilst enjoying live music.
The Winter Wine Walk and Holiday Street Fair is Saturday, December 3, downtown Ventura. The street fair with vendors and food trucks is open all day and free to the public (noon – 8 pm), but you need to purchase tickets if you want to participate in the wine walk (4-7 pm). The live entertainment is also free and family friendly with Victor Vega and the Bomb culminating the day at Main and California with a gorgeous snowfall; but trust me when I say, no matter how pretty or real it looks, don't stick out your tongue to catch "snowflakes."
Jodi Farrell's 28th Annual Student Holiday Concert is always a treat. This year's show will be held at the Korean Methodist Church on Kimball Road in Ventura on Saturday, December 3 from 4-6 pm. The special guest band will feature Ron Barnett, Jim Rankin, Brad Strickland, Manon Franklin and Hekar Rivera. Though this is free, donations are appreciated.
The 22nd annual 4 Kids 2 Kids holiday fundraiser will be held at Cantara Cellars in Camarillo on Sunday, December 4 from 2 – 7 pm with the cost of admission only $5 plus a new unwrapped toy. Bands on tap: RJ Mischo w/ Debbie Davies, Ray Jaurique Big Band w/ Flattop Tom, Shawn Jones, Katie Skene, Hot Roux and Milo Sledge.
Poseidon Brewing Company will host their annual holiday pajama party on Friday, December 9 featuring live music from the Vanise Terry Band.
Cantara Cellars bring Britain's Finest to the venue for "Christmas with the Beatles" on Saturday, December 10.
Doc the Halls Holiday Blues with Doc Ventura will be held at Namba on Saturday, December 10, at 7 pm. The $20 cover gets you Bombafiya, Preston Smith, RJ Mischo, Bill Flores, James Schulfer, Fito de la Parra and Doc Ventura.
The 9th Annual Holiday Sing a Long and Toy Drive at the Majestic Ventura Theater will be held on Sunday, December 11 at 7 pm. Admission is one new unwrapped toy per family. This year's concert will feature favorite Disney and holiday songs.
And though not exactually holiday themed, I would be remiss if I didn't mention the 17th annual Chopperfest Art and Culture Show returns to Ventura at the Ventura Fairgrounds and will host a special motorcycle art exhibit, an all-brand antique and custom motorcycle show, custom bike builder displays and hundreds of motorcycle/culture vendors; plus, they'll have live music from Awesome Blue and the Midnight Rider Band (Allman Brothers Revival). Find out more and get your tickets at Chopperfestival.com
Quick Notes: Tickets are on sale now for Dr. Know and Stalag 13 with original singer Ron Baird for January 7 at the Oceanview Pavilion in Port Hueneme through EventBrite; Angelo Moore's Dr. Madd Vibe and the Missing Links play The Grape on Friday, December 2; Long Beach Dub Allstars play the Ventura Music Hall on Saturday, December 3; WonderHouse on Knoll Drive in Ventura has a show featuring Shaky Feelin' and the Katie Skene Band on Saturday, December 3, $20 at the door; Feros Ferio Winery in Ojai hosts live music with Two Tossers on Saturday, December 3; it's an evening of Brazilian Bossa Nova, Samba and Jazz with Teka & Friends when they play the Beatrice Wood Center for the Arts in Upper Ojai on Sunday, December 4, on the following Sunday, December 11, the special jury prize winner of 13th International Tchaikovsky competition, Evgeny Tonkha, will perform; All Kinds continues to offer live music for the younger generation in Zander Alley at 433 E. Main Street downtown Ventura. It's a sober space for all ages with live music on Sunday, December 4 with Sound that Ends Creation, Cel Damage, Two Brothers, Black Moon Lilith, Crave and Stood Up with a $10 cover; and Phil Salazar and Tom Corbett team up for a show at the Ojai Underground on Saturday, December 10.
Do you have any music-related news or upcoming shows you want help publicizing? Please send all information short or long to [email protected], and for updated music listings daily, go to www.VenturaRocks.com.