A vision of Dr. Anna Cho and Rex Regal.
by Patricia Schallert
Hydro Theory is a vision of Dr. Anna Cho and Rex Regal. They believe in "The Theory that ocean experiences, when mindfully facilitated, brings about integration within the self, others, skillsets, and the community verb 'To just Add Water' in the life process to enhance healing and growth".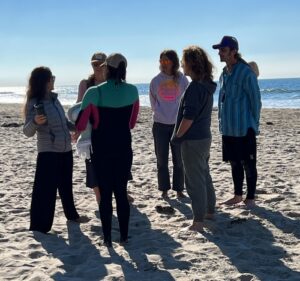 Rex Regal Founder and Ocean Communities Advisor is a former US Navy SEAL battling over three decades of post traumatic special warfare. As the visionaries of Hydro Theory's mission, Rex brings an integrated lens to sustaining healing from the water. His professional journey led him to help communities and agencies build their infrastructure, expand their market reach, and enhance their potential. Regal combines his soulful presence and intense passion for healing ocean concepts, to move individuals and communities towards enriching their own lives. He serves Hydro Theory by envisioning creative and practical avenues to help the community reach their potential and break through any barriers that hinder their progress.
Anna is a Licensed Marriage and Family Therapist and Registered Art Therapist and serves as Clinical Supervisor for the new practicum site and training ground through Hydro Theory. She prefers to ride her longboard most of the time but will be grateful for whatever is rideable.
"I want Hydro Theory to provide a training hub for interns, coaches, and the community to raise awareness in mental health issues intersecting into our professions."
They are a Veteran-run non-profit agency that promotes safe access to the ocean and have been approved as a graduate and doctoral level university training site (practicum). This also includes a team of philanthropic soul surfers who train on land, ocean and virtually to support emotional, physical, and professional development.
As avid surfers and sailors, their vision is to have an inclusive community space that serves as a platform for holistic coaches and teachers, therapists, and volunteer surfers to gather and to collectively share their gifts and talents, as well as share the challenges they try to overcome in their own lives while healing in the ocean.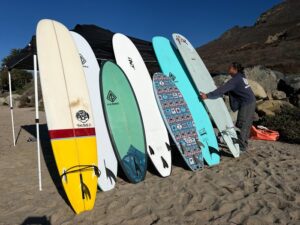 Their program recently launched "Waves of Grief in partnership with Waves of Grief Collective" at Solimar Beach every second Sunday of the month. Their main offering is to provide solace and a safe space to heal together their losses from the pandemic and to provide help as they opened their Ocean Clinic to not only help in surf skills but to integrate their experience on land.
For Anna, yearning for the ocean is deeply connected to her childhood. It was a conflicting idea for her and so she patiently waited and dedicated a portion of her time attempting to visit the ocean when she could. It became her healing place once her day was complete, or before it had begun.
"I learned that I am an expert learner with the right teacher, and I supplemented the worries and fears around me by cleansing, sometimes tumbling from the ocean."
What she noticed quickly was that not only was her endurance growing, but the supplement of water quickly became a necessity in survival, and she could not experience it alone.
Other surfers wondered how she came out so much to surf, and all she could think was, 'How could I not? "This is where I cry, where I get nurtured, where I pray for those I love and lost, while continuing to paddle forward."
As Anna observed and connected with other surfers, she noticed that everyone has a story to tell, pain they try to paddle away from, and ultimately what everyone ends up with, at the end of the sunset is "Ultimate Stokedness".
As a mental health clinician experiencing the healing powers of the ocean, Anna and Rex both felt that to be able to sustain healing, it became an important need to be "shared with the community." The circle of life does not end with pure joy and "feeling stoked". "It ends with sharing, resonating, transpiring experiences that infect one another."
The stories in Hydro Theory are generated by the Hydro Community, those who recognize the privilege we have on this coast, to help encourage the community to "Just Add Water" to the mix… and to stir it up with us!
Hydro email: [email protected] 805-8503726