With arms wide open, Michael Boyko invites all of greater Ventura County to stop by and visit the Boyko & Reardon Telegraph Road Mortuary & Cremation at 15 Teloma Drive to say hello and maybe have that important talk about your lifetime.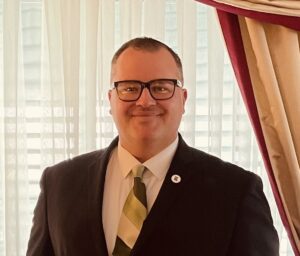 In December of 2019, Boyko of the Joseph P. Reardon Funeral Home & Cremation Service on Main Street in Ventura acquired the mortuary property at 15 Teloma Drive. Also in Ventura, this site has been comforting the public since the 1960's. And, so began the Boyko & Reardon Telegraph Road Mortuary & Cremation nestled at the corner of Telegraph Road and Teloma Drive. The addition of the location furthers their enhanced ability to continue to serve our community at two distinctly different sites: the original funeral home at 757 E. Main Street and 15 Teloma Drive. Residents of our community want convenience, affordability, and a high degree of professionalism and they proudly provide service and fine facilities on each side of the City.
Continuing at this historic site at the former "Candy Cane Lane", this landmark of a building in Ventura houses a spacious in-house chapel that can accommodate over 250 guests as well as spacious family meeting rooms, parlors, and a celebration reception room. They have upgraded with modern and sleek amenities like contemporary audiovisual equipment, sound systems, and comfortable furnishings to provide peace and a home-like surrounding. The warm decor gives a feeling of comfort that falls just short of opulence. You'll be greeted by offices and halls painting in comforting beiges, tans, and maroon accents coupled with the smell of a freshly cut bouquet.
Michael already known for the funeral home on Main Street said the decision simply made sense, "Ventura is basically all the same people yet having the facility at 15 Teloma Drive just lets me give people what they want, affordable excellence and either of our fine facilities."
Boyko finds working with grieving families a calling and being of support to them comes naturally. You can find him locally giving talks, volunteering, and supporting churches, temples, and even hosting community events. Boyko proudly serves on the Board of Directors of the Ventura Music Festival and has hosted concert events in the Funeral Home's Chapel. The owner shares, "As gatherings resume, I am excited at the possibility of doing more of these types of events bringing in friends for live performances."
"We find the meaning in life in service and helping others. Navigating the path of loss isn't something to be taken lightly. No matter the scenario my staff takes time to support our families served in their hour of need and thereafter. Sometimes it's not what you say, its being there for someone and just lending a should to lean on and an ear to listen to."
Michael is overcoming the stereotype of the typical undertaker. At 45, Boyko is president of both funeral homes and considers it an honor to be the fourth generation to carry on the tradition of funeral directing, operating one of the state's oldest funeral homes which recently turned 111.
Constantly, Michael remains vanguard with alternative funeral/cremation/memorial options. He's known for programs like green burials, whole-body burials of caskets at sea, free grief-counseling seminars, and a reputation for throwing some of the best parties in the City. Boyko does as much as he can to breathe life into the death business. Boyko who is an eager host is quick to answer questions and stress the profound responsibility he has as a funeral director. "People want options and I've got an array of numerous distinct options for traditional and non-traditional funerals, themed memorial services, final toasts, paddle out to sea scatterings, beach party tributes, or keeping one's services private. Within these options, you well know we have caskets, urns, burial vaults, livery, memorial products etc. but what we really sell here is 'trust'."
Rather than wait for people to walk through the door, Michael and his staff reach out to our community to offer seminars and talk in regards to the funeral home's offerings and pre-planning arrangements.
Each day Michael opens his doors and urges all of greater Ventura County to stop by for a visit and have that all important conversation.