Competitor nose riding during the Queen of the Cove competition. Photo by Kaili Reynolds
by Amy Brown
With three days of sun, smiles and shredding, professional and amateur surfers came together recently at the Queen of the Cove, the first all-women's longboard competition held at C Street. Pro surfer Sally Cohen finished first in the pro division with a $6000 purse, and a range of talented women were crowned in age divisions ranging from 50s to 10 and under.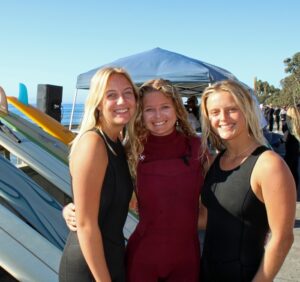 Amateur surfers had the chance to compete against some of their idols in different divisions and hone their skills, according to 18-year-old Olivia Willhite, who has been surfing in competitions for years. "I surfed against Rylin Baker (who won the 17-19 division) yesterday, and she's really good, and definitely someone to look at as a mentor in surfing," she said, "I like being part of an all-women's surf event, I think that's really cool," said Willhite, who is also a popular local singer songwriter gaining international acclaim with her Indie beach rock style.
Elieah Boyd shared that while this was only her second surf competition, she had placed second in the 20s division the day before. "I follow most of these girls that are professional surfers on Instagram, and I got to surf with them, it was a crazy experience. It feels like they're there to support you just as much as you're there to support them," she said.
Many competitors had to overcome nervousness before being able to relax into the spirit of the event. "I'm new to competitions, and yesterday the nerves got the best of me. I fell on a lot of waves and I got really frustrated with myself," said 21 year old Sierra Cameron. "But then I realized, I'm just going to go out and really surf in my next heat, because I love this sport. So I did that, and I got second in my heat!"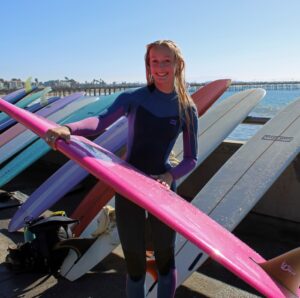 Ashley Heath made it to the finals on Sunday and placed fifth in the 14-16 division. "It was really fun, it's been amazing, and I feel like it's also a little piece of history, as there aren't that many women's competitions around, and I love being part of this one," she said. "I look up to all the pro girls here, they're really empowering, and I've made some great friends along the way."
The event was organized by Carla Zamora, who had initially founded a Queen of the Cove event in Malibu. She was thrilled with the success of the Ventura competition and says it will be an annual event. "It was spectacular. Perfect weather conditions, it was so beautiful and sunny, the wind didn't come up and all the things just fell into alignment," said Zamora. "We wanted an opportunity to both offer the pros a platform and money and bring the amateurs in to see what they could have in the future."
The event concluded with a paddle out in sweaters to honor the late great Ventura surfing pioneer Mary Monks, who famously surfed Ventura County breaks in the 1950s in a wool sweater in lieu of a wetsuit, and whose photo adorns the Ventura pier.