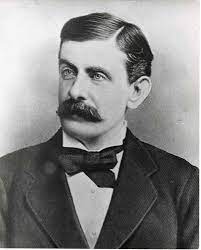 by Richard Senate
Over the years many great people have visited the Olivas Adobe. Perhaps a list could be assembled to better understand this historic place in Ventura. Many greats have passed near the structure in the last two centuries from Fr. Serra to Ronald Reagan but this study will focus upon those historic people who have set foot inside the adobe. The list starts with…
US Senator Thomas R. Bard. He was the first and only US Senator from Ventura County, a prominent land developer and oil man. He wrote of his visit in letters and described the old house and the Olivas Family. They played the music box for him (barrel piano) and gave him a tour of the house. He was most impressed with the parlor on the second floor (perhaps the Chapel?).
Andrew Mellon. The Secretary of the Treasury who came here as a guest of yeast king Major Max Fleishmann. They came to the isolated adobe to talk and hunt ducks in the Santa Clara River Valley.
Erle Stanley Gardner. The lawyer ad mystery writer who created the character of Perry Mason was a member of the Old Adobe Gun Club in the 1920s. He was also the lawyer for Mrs Dorothy Olivas in her divorce action and visited his client here. He may have used the adobe in one of his many mystery stories.
Clark Gable. The uncrowned king of Hollywood's Golden Age was an avid duck hunter and was caught pooching on Fleishmann's hunting preserve. Max didn't call the sheriff but invited him to dinner. They feasted on wild duck and—it can be guessed—Lima bean soup.
Will Rogers. Comedian and political satirist is said to have dinned here as a guest of Major Fleishmann. They both shared a love for the sport of polo. This was in the early 1930s when Rogers was becoming a success in Hollywood before his ill-fated round the world flight with Wylie Post. That ended with his death in Alaska.
Martin Sheen. Actor and activist. He came to the adobe and held a small rally here, making a documentary in support of the Farm Workers.
Linda Blair. Actress. She made a short film here for the Sundance Film Festival titled "Marina". The Old Adobe subbing for Spain. (Note: Mr. Richard Senate was an extra in the film)
Candice Bergen. TV and Movie Star came here with her daughter's class to do the Rancho Program. The school was an exclusive private school from Beverly Hills. All of the students were in uniforms with coats and skirts—all of them became very muddy! (they had been warned). But, Candice and the children had a great time.
Over the years many other celebrities have visited the old hacienda. If you know of any stories of these visit please contact Mr. Senate and he will add them to the growing list.