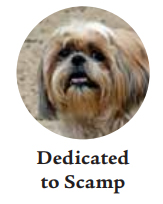 ∙Search Dog Foundation (SDF) -When Hurricane Ian made landfall in Florida on September 28, it did so as a Category 4 with 150 mph winds.
Even viewing a model, it's easy to imagine how entire towns can be wiped out and residents trapped under debris, a sobering reminder of the importance of our mission. Over the years, our SDF teams have deployed to Ian and hundreds of other disasters to ensure no one is left behind.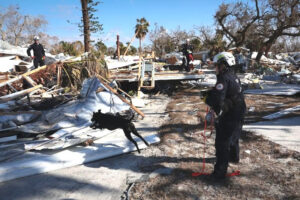 With your support, we continue to keep our teams and the next generation of first responders prepared and ready to act when communities need them.
We had three teams deploy in response to Hurricane Ian: Karen Meadows & Jax and Shawn Hall & Manion of Virginia Task Force 2, and Ed Ruiz & Harper of California Task Force 2. Notably, all three teams are relatively new to the roster, partnered in the last eighteen months.
New does not mean green, though. Even after the leashes of search dogs are handed off to their first responder partners, the teams have ongoing support and instruction from our dedicated canine training staff. These three teams had been training consistently for any disaster they might encounter and were well-prepared and ready to join their task forces when the call came.
After 15 days in Florida, all canine teams have demobilized from the Hurricane Ian incident and returned home. The many days of searching through homes ripped from their foundations, boats stranded inland, and streets unrecognizable with debris become a blur amid such widespread devastation. However, like the resilience and determination we look for in our search dogs, many human rescuers worked day in and day out until they completed their mission. We are incredibly proud of these teams and thankful for their sacrifice and their service.
∙ We are celebrating National Make A Dog's Day on October 22. We use this day to ensure that the dogs around us enjoy themselves as best as possible. This is a day to spread information about dogs' importance in our lives and how much they can improve our days with love and loyalty. We also use this day to encourage people to adopt from shelters and provide a better life for at least one puppy. We mean the world for a dog, and it is time we ensure they get everything they deserve.
∙ Is it safe for cats to drink milk?
By Charles Q. Choi
Cats are commonly shown lapping milk from saucers. But can they safely drink milk?
The popular image of cats drinking milk may have emerged during the 19th century, when cats and dogs became popular subjects for artists. As the Industrial Revolution progressed and more people migrated to cities, the number of cat and dog owners grew, and artists were increasingly called on to paint charming works of pets. As such, French artist Alfred-Arthur Brunel de Neuville often drew cats drinking from bowls of milk, and his work proved very popular during his lifetime, according to Rehs Galleries in New York City.
However, giving milk to adult cats might actually do more harm than good to them, according to Britain's leading veterinary charity, the People's Dispensary for Sick Animals. Cats often lose their tolerance for lactose, the sugar found in milk, when they get older, just as most humans do.
"For most cats, the ability to digest lactose declines after weaning," Nathalie Dowgray, head of the International Society of Feline Medicine in the United Kingdom, told Live Science. "As a result, milk can cause digestive issues in cats and lead to symptoms such as diarrhea or vomiting."
Some cats may keep the ability to digest lactose into adulthood, just as some people do, Dowgray noted. Still, "there are no additional nutritional benefits to giving your cat cow's milk if they are fed a high-quality complete and balanced cat food," she said.
In addition, cow's milk is full of fat. A saucer of milk for a cat "is like you eating an entire 12-inch pizza," the People's Dispensary for Sick Animals noted. As such, cow's milk can lead a cat to become overweight, Dowgray said.
Cats may still crave milk despite the problems it causes because they may connect it with positive memories from their time as kittens, according to Hastings Veterinary Hospital Burnaby, British Columbia. They may also simply like the taste of the fat in it, the People's Dispensary for Sick Animals noted.
∙Nearly one in three pet dogs suffer from these ADHD-like repetitive behaviors — and researchers now suspect that an animal's home life could be the cause.
A study involving thousands of Finnish pet dogs found that certain factors make a canine more likely to develop repetitive behaviors, including:
Belonging to a first-time dog owner.
Living in a larger family.
Being the only dog in a family.
Getting little exercise.
These repetitive behaviors can range from the annoying to the actively harmful.
Dogs can injure themselves by licking or chewing a paw, or break a tooth lunging at a glimmer of light on a wall, said Erica Feuerbacher, an associate professor who studies domestic dog behavior at the Virginia Tech College of Agriculture and Life Sciences in Blacksburg, Va.
Feuerbacher herself ran into such trouble while transporting a rescue Belgian Malinois, because she didn't know that the dog was a "light chaser."
"We had just had her loose in the back of my car, kind of tethered but not in a crate," Feuerbacher recalled. "And my phone flashed, caught a light, and she leapt into the driver's seat — while I was driving! I had a mesh barrier up between the front seats and the back of the car, but she launched herself over it!"
She added: "Luckily my husband was able to catch her and restrain her. We pulled over right after that and he sat in the back with her the rest of the way" to keep her settled, so those lights didn't cause an accident.
For the study, Sulkama and her colleagues gathered questionnaire data on almost 4,500 Finnish pet dogs and their owners.
About 30% of the dogs in the study engaged in repetitive behaviors, the researchers found, and the likelihood of these behaviors was associated with a dog's home and lifestyle.
For example, dogs that are their owner's first canine companion are 58% more likely to develop repetitive behaviors than ones that belong to veteran dog owners, results show.