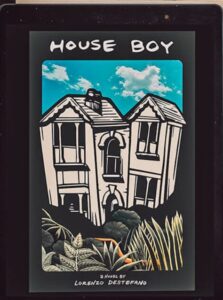 American Book Fest, an online publication providing coverage for books from mainstream and independent publishers, has announced the winners and finalists of its 2022 American Fiction Awards. Now in their sixth year, the latest American Fiction Awards are for titles published between 2020-2022, in over 70 genre specific categories. These books, reviewed by a distinguished panel of industry judges, represent a phenomenal mix of storytelling skills from a wide array of publishers throughout the United States.
"HOUSE BOY", winner in the "Multicultural Fiction" category, is an urban thriller with socio-political and racial overtones, a fact-based tale that Lorenzo first read about in the UK in the mid-90s and has been working on ever since, between his many other film, theater and literary projects.
His novel inhabits a shadowland where ancient traditions take root and prosper in our so-called modern world. In the polite suburb of Hendon, North London, behind the windows of an undistinguished house at 321 Finchley Lane, exist domestic horrors performed by desperate human beings upon their chosen victim, such as passersby could scarce imagine. In this house, the lives of a young Dalit man, Vijay Pallan, and an older Brahmin woman and her son, Binda & Ravi Tagorstani, intersect as if decreed by history. Through the increasingly disturbing encounters between these three characters, the reader is exposed to the harsh realities of the caste system and modern slavery, the boundless capacity for human pain, and the ultimate blessing of even one man's survival.
Published June 7, 2022 by Atmosphere Press, the book has received glowing reviews, including…
"Evocative imagery, sociopolitical relevance, and a compelling storyline. Vijay's traumatic experiences transcend fiction and read like an authentic, contemporary depiction of the effects of the caste system and human trafficking." – Kirkus Reviews
"HOUSE BOY offers quite a different focus and insights than most as it traverses the human psyche and its ability to perform, accept, or defy grave injustices. …rewards its audience with gripping moments and surprising revelations." – Midwest Book Review
Lorenzo's book features jacket design by the Breeze's own Alfred J. Lewis of Studio Nothing.
Lorenzo thanks the Ventura Breeze and all his other friends in the Ventura community for their longtime support. He also thanks everyone at American Book Fest & Atmosphere Press for their belief in this novel, and to EMG, the young Indian man whose traumatic life experiences inspired this book.
"HOUSE BOY" is available as a Trade Paperback or eBook and can be ordered from your local bookstore, or from many online retailers.