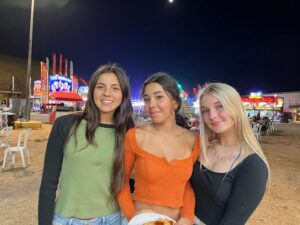 by Kylee Brown
The Ventura County Fair has long been a much-anticipated staple in Ventura's beach community, bringing family, friends and visitors together. Like most events, it had some adjustments during the pandemic, including being canceled altogether in 2020 and 2021. In August of 2021, however, there was a smaller event called the Summerfest Carnival that was held at part of the fairgrounds by a separate organization, which was warmly welcomed by a community that had been missing a fair-like experience.
The official county fair returned this year with the theme "Country Fair with Ocean Air", and also commemorated its 147th year. Locals were excited to welcome it back, and shared their thoughts about the ways the event has evolved since the pandemic.
Carrie Cocain, a 14-year-old Ventura native, has been going to the fair for as long as she can remember. She shared that this year was also really special because of the connections made with friends. "I'm glad that this year the fair is back and we got to see all the exhibits and animals again," Cocain said.
Some folks were hesitant to even visit any event due to concerns about safety in crowds and the pandemic, but Alma Dearas, from Oxnard decided to give it a try nonetheless. "We were iffy about coming to the fair even at the end of the pandemic, but I had just had my baby and wanted to go as a family," said Dearas. She appreciated that the fair once again encapsulated the entire fairground area as in former years.
One special thing about being a Ventura County local for many is growing up going to the fair every summer. High school sophomores Tristan Sommars and Alanna Bowen have been in attendance since elementary school. When asked if the 2022 fair has changed for the better, Sommars explained that there are now more things to do and because of that, it seems like a bigger demographic of people travel to the fair from other areas.