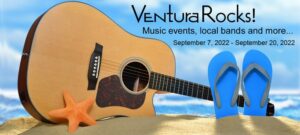 by Pam Baumgardner
VenturaRocks.com
How hot was that Labor Day weekend? I hope you were able to get out and catch some of the many live music events along the coast where it was mostly bearable. As for the rest of September, it looks like the weather should remain warm to hot…just not Vegas hot.
As always, at the top of my list of recommendations is anything I'm involved with, so I hope you'll consider Taste of Local as it returns this year on Sunday, September 11 presented by Totally Local VC Agricultural Education Foundation. VenturaRocks (myself) will help to host the music stage where Spencer the Gardener, Dan Grimm and the Rose Valley Thorns will be performing. Along with the live music, there will be a local homebrew challenge, a farm-to-glass mixology throwdown and dozens of booths where you can taste delicious samples from local chefs. There is expected to be over 60 area chefs, farmers, purveyors, wineries, breweries and distilleries showcasing their culinary expertise. You can find out more about this wonderful event at TotallyLocalVC.com and I hope to see you there!
The 5th annual Oxnard Jazz Festival runs three days this year at Oxnard Beach Park (1601 Harbor Blvd.) Friday, September 9 – Sunday, September 11. This ticketed event will feature live music all three days. Delta by the Beach kicks off the live music on Friday; Kelly's Lot, Hiroshima, Jeffrey Osborne, Jeff Ryan and others on Saturday, and Sunday it's Paula Atherton, Bunny Brunel, Erin Stevenson, the Emotions and more. You can get the full list of acts, Covid-19 updates and ticket information at OxnardJazzFestival.com.
The Roots 805 Jam is Saturday, September 10 at Oceanview Pavilion in Port Hueneme from 3 – 11 pm with Tomorrows Bad Seeds, Kyle Smith, Krooked Treez, Synrgy, Morie & the Heavy Hitters, Rising son, Jacob Marquez & the Good vibes and more. Tickets range from $30 to $65 on EventBrite.
The 34th Anniversary show for Chick Singer Night will be held on Saturday, September 10, with
Martha V, Diana Bacon, Olivia Mucha, Kerri Climer and Vanise Terry. The location is Sound Palace, Studio B in Oxnard. Tickets are $25 through EventBrite.com.
Dirty Cello returns to Ventura with a show at Namba Performing Arts Space on Saturday, September 10. Band leader and cellist Rebecca Roudman is also a member of classical orchestras, but with the Dirty Cello band she lets her hair down and uses her classical training to push the cello to its limits – more Jimi Hendrix than Yo -Yo Ma. Roudman says, "We play what folks want to hear, from the Devil Went Down to Georgia to Led Zeppelin, we go on stage with a huge collection of songs and then just have a ton of fun – we don't take ourselves too seriously, and we just want the audience to have a good time too."
The Leashless Brewing End-of-Summer Lu'au party falls on Saturday, September 17. You're invited to dress in your lava-lavas, sarongs, or your aloha shirts…and bring on the island vibe because this will be a party! Morie and the Heavy Hitters play from 6 to 9 with proceeds from the event donated to the Ventura State Rescue Association.
Saturday September 17 at the Beatrice Wood Center for Arts in upper Ojai will have an event being billed as Gypsy Meets Choro, featuring Finnish guitarist Olli Soikkeli and Italian-Brazilian 7-string guitarist, Cesar Garabini. The duo offers up an exquisite duet paring swinging Django Reinhardt-style gypsy jazz guitar and spicy choro style jazz guitar. You can get more information at BeatriceWood.com
New shows added at Ventura Music Hall
Tribal Seeds feat. Hector Roots Lewis – October 4
Atmosphere – October 19
Klangstof – October 25
Big Head Todd and the Monsters – November 11
Zepparella – December 8
Mat Kearney – February 11
Mark your calendar (more details next issue) for Saturday, September 24: The Banana Festival in Port Hueneme, Oktoberfest at Lucas Sellers in Moorpark and it's the Rudder Room's 60th anniversary with Teresa Russell.
Quick Notes: Starship feat. Mickey Thomas at Libbey Bowl on September 4 was cancelled; The Fabulous Thunders play Ventura Music Hall on Wednesday, September 7; Flipper, Mike Watt and The Robot Uprising play Gigi's on Thursday, September 8; IDKHow plays the Ventura Theater on Friday, September 9; Bart Davenport plays the Deer Lodge on Friday, September 9;
Blood, Sweat and Tears play Libbey Bowl on Saturday, September 10; Kansas plays the Thousand Oaks Performing Arts Center on Thursday, September 15; Josh Damigo will open for Allen Stone at the Ventura Music Hall on Friday, September 16; And Panteon Rococo plays the Ventura Theater on Tuesday, September 20.
Do you have any music-related news or upcoming shows you want help publicizing? Please send all information short or long to [email protected], and for updated music listings daily, go to www.VenturaRocks.com.