San Buenaventura Women's Club members Shirley Lorraine (wearing a Breeze visor of curse), Anita Hensley and Janet Flickinger at their fair booth. The Disabled American Veterans of Ventura County has a plethora of information available to help veterans.
by Shirley Lorraine
Many changes have taken place as Fair management copes with the losses incurred from no fair for the last two years. This year involvement is light and there seems to be fewer entries, vendors and familiar touches overall. Nonetheless, it is good to be back at the Country Fair with Ocean Air.
Along the Garden Street entry, there are a series of tents. These tents contain volunteers from non-profit groups eager to catch people's interest and disseminate information about their objectives and offerings.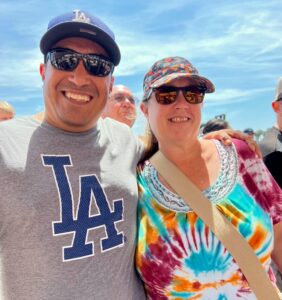 This year, fairgoers are enthusiastically greeted by volunteers in bright blue shirts from the San Buenaventura Women's Club. Members provide information to educate and entice interest in the philanthropic and social club that raises funds to give back to the community annually. The club offers a variety of social activities, including an evening section for those who are unable to attend day meetings The club supports arts and music programs in the high schools, law enforcement canines, provides veterans support and serves other local needs such as advocacy for children, domestic violence awareness and much more, for over 90 years. Ventura County also has Federated Women's Clubs in Ojai, Oak View, Somis, Moorpark and Simi Valley. Anyone over 18 can join.
Across the way, there is a booth distributing information on N.A. – Narcotics Anonymous. Valuable information is available without charge. This year, for the first time, materials are available in both English and Spanish. Additional information can be found at naventuraCounty.com, or 1-888-817-7425.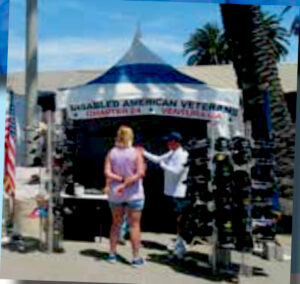 Disabled American Veterans of Ventura County, a volunteer run organization, has a plethora of information available to help veterans and their families navigate the quagmire of paperwork needed to explore and gain benefits. Their national website is DAV.org. Search for the Ventura County chapter for information about local resources. Volunteers will chat, answer questions and gladly show memorabilia.
Offering a safe, calm and spiritually renewing experience is the Calvary Chapel of Ojai. They are featuring Prayer at the Fair, opportunities to share prayers with those who need some help from above for themselves or others. Pastor Dan Nelson is the coordinator for the effort, inviting all of similar faith to participate. There is no charge. Periodic prayer circles are offered as well. More information can be located at www.calgaryojai.org.
Also on scene is a booth for S.T.E.S.A., which stands for Service, Therapy & Emotional Support Animals. This organization provides advocacy and resources within Ventura County for those who need such animals. Founded by Pastor Nelson, this chapter is free to join while at the Fair, and free to renew annually. Services are currently within Ventura County only. This organization works closely with county and state level partners to maintain up to date resources and information. Their website, STESA.org, is currently being updated to include interactive capabilities.
The Garden Street entrance is across the way from Floriculture, and just before the livestock area. Come and visit.