The visual arts to play a new and substantive role at the Rubicon. Photos by Patricia Schallert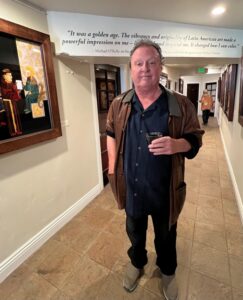 On July 21, the Rubicon Theatre Company, Ventura's non-profit professional theatre company held an opening reception for the transformation of the Sandra and Jordan Laby Hall. As part of the re-envisioning, the downstairs hall has been fitted out with an industry-standard gallery hanging system, offering an opportunity for visual arts to play a new and substantive role at the Rubicon along with their wonderful performances. Piano music, wine, and light snacks were provided to fill out the wonderful evening.
It is to be called "The Rose Room" in honor of Ojai residents Amanda McBroom (Golden Globe Award-winning creator of the song "The Rose") and George Ball. The two have been an integral part of Rubicon's artistic history.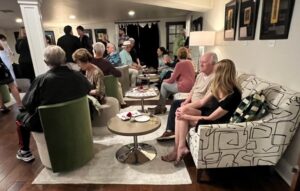 McBroom and Ball shared a statement, "The pre-christening of the Rose Room at the Rubicon and the unveiling of that glorious mural by Michael O'Kelly was an astounding moment for both of us. We were amazed by the beauty of the mural. And by the reality of such a splendid and intimate new space for art and music. We both love the Rubicon and our friends Karyl Lynn Burns, Jim O'Neil, and Bev and Kirby Ward.
The staff and Board selected internationally renowned local artist Michael O'Kelly to assist in the remodel. The result of the partnership is a showing of 24 pieces by O'Kelly (plus new murals by him featured on page 17). The show is entitled, "An Historical Eye" includes oil paintings, dye sublimations, and gold-leaf prints. O'Kelly was on hand to greet visitors and discuss his art (all of which is for sale).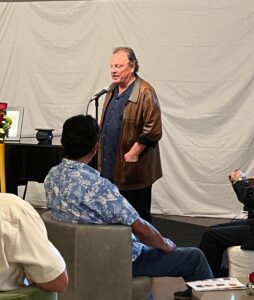 This collaboration between one of the largest arts organizations in Ventura and a local artist is an example of how the 24-year-old Ventura institution reimagines its place in the community in the wake of the pandemic. O'Kelly has a long and storied history in the art world. A prodigy, Michael sold his first work of art at the age of nine.
Karyl Lynn Burns, Co-Founder and Producing Artistic Director at Rubicon, sums up the idea of the arts sector coming together, "There is enormous undeveloped potential in Ventura. We must think big and find innovative ways to strengthen our creative economy. The status quo won't do."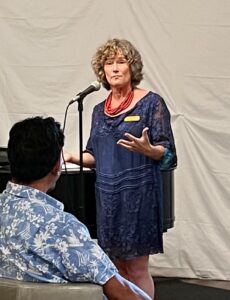 At the event, Rubicon Director of Outreach Beverly Ward also unveiled the partially painted mural by Michael O'Kelly which, when complete, will become a focal point for the room and a further reason for local residents from visitors throughout the world to come to Rubicon. The mural is the largest ever conceived by O'Kelly, with McBroom and Ball at the center (see page 17 to find out how you can be added to the mural).
Rubicon Theatre Company – Sandra and Jordan Laby Hall
1006 E. Main St. Ventura
Admission is free