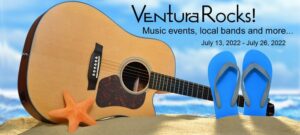 by Pam Baumgardner
VenturaRocks.com
This is it! After a pandemic time-out, Surf Rodeo returns to Ventura over the weekend of July 15 – July 17 at the Ventura pier with music on the southside and surf competitions on the northside at Surfer's Point. The festivities not only include a surfing contest featuring pros and locals, the bikini cowgirl and cowboy competition and cornhole tournament, but if you ask me (which is why you're most likely reading my column), it's all about the live music. It will be live bands galore over three days on several stages; it's practically non-stop, start to finish with over 40 bands scheduled! The headliners for each day are The Green, Hirie and Rob Leines on Friday, Ozomatli, Badfish, The Aggrolites & Bob Log III on Saturday, and Yachtley Crew and Highway Starr on Sunday. For a more complete music listing and to secure your tickets, go to SurfRodeo.org.
Meanwhile for something a little tamer, Camarillo Old Town Heritage Days Midsummer Block Party also runs the same weekend July 14 – 17. Though you'll need to purchase carnival ride tickets, there is no admission to the event which means the music is free!
Friday, July 15
6-10 pm – Acoustic DNA
Saturday, July16
Noon – 2 – Mariachi
2-4 pm – Full Clip
4-5 pm Rising Elijah
5-6 pm Bobby Hart & Old Town Boys
6-7:30 pm Mini Driver
8 – 10 pm Foster Campbell & Friends
Sunday, July 17
Noon – 2 pm The Martinez Bros with Ruben Estrada
2-4 pm Shaky Feelin'
4-6 pm Free Love Project
Poseidon Brewing has their Summer Saturday Music Series from 4-7 pm (unless otherwise listed):
July 16 – Zeke Berkley
July 23 – Steve and Sally Williams
July 30 – Mitch Bradford
August 6 – Muleskinner Revival
August 13 – The Dynasties (1-3 pm)
August 13 – Morrison Drive (4:30 – 7 pm)
August 20 – Cary Park
August 27 – Chris Murphy
September 3 – Dean & Lisa
The 2022 Heritage Square Summer Concert Season is underway in Oxnard on Friday evenings 6 – 8:30 pm. Individual seats are available for purchase day of show for $10 on a first come basis, or you can take your own blanket or low back lawn chairs seats for free unreserved seating.
Upcoming concerts:
7/15: The Impulse Band
7/22: Los Cool Arrows
7/29: Myst
8/5: Soul Machine
8/12: The British Beat
8/19: Caliente 805
Pedals & Pints Brewing Company and Tarantula Hill Brewing Company in Thousand Oaks are presenting the inaugural Down the Rabbit Hole Festival of Music and Beer on Saturday, July 30 from 11 am to 11 pm and it will feature 10 bands between the two breweries. Tickets are $60 for both venues, which includes your first beer at both locations, and a free shuttle between the two. Bands on the bill are Robert Jon & the Wreck, Beaux Gris Gris & the Apocalypse, Shaky Feelin', Jacob Marquez & the Good Vibes, a Dustland Fairytail, OPM, Weekend Celebrity, Garrett Lee Robinson, Those Animals and Better off Blonde.
New shows added for the Majestic Ventura Theater include Concerts 4 Causes – Metal Help for Mental Help featuring Bone Maggot, Disrupted Euphoria, Sinsation and more on Saturday, July 23; Panteon Rococo on September 20; Lagwagon, Strung Out and SACK on October 6; and the Front Bottoms on October 9.
I was looking over the Boots & Brews Country Music Festival webpage and it shows Ventura is listed for August 20 with Cole Swindell, Eddie Montgomery of Montgomery Gentry, and Raelynn. But then they list Tim McGraw on October 14 and when you take a look, it's a second Boots & Brews for Ventura which also features Michael Ray and Bailey Zimmerman. Hmmm, interesting; I hope it's not a mistake. I hadn't heard back on my inquiry for clarification as of press time.
Quick Notes:
All Music Under the Stars summer concerts at Olivas Adobe are sold out; the Ojai Band plays a free concert at Libbey Bowl on Wednesday, July 13; jazz musician, Luis Munoz, will have his final show at Namba on Saturday, 7/16, before he moves out of state; there's a Numbskull show with Subhumans, Generacion Suicida, and Head cut at Gigi's on Saturday, July 23; Katie Shorey does ladies of the 80s at Cantara on Saturday, July 23; and don't forget that the Ventura Music Festival runs July 29-31 & August 5-7.
Do you have any music-related news or upcoming shows you want help publicizing? Please send all information short or long to [email protected], and for updated music listings daily for all of Ventura county, go to www.VenturaRocks.com.