Debra Holladay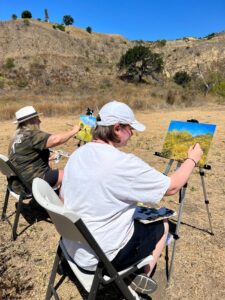 On Saturday, July 9th, 2022, The Ventura Land Trust sponsored it's first artist-led Plein Air painting workshop at Harmon Canyon Preserve. The event began with an introduction to Harmon Canyon Preserve by Outreach director,  Leslie Velez and three professional Plein-Air artists. artists. It  concluded with artist participants showing their final projects.
Painting en plein air, the French expression for "in the open air," is the act of leaving the walls of a studio and painting in the outdoors. Artists explore how to paint form and light, with its changing, ephemeral qualities, with portable paints and easel.
The presentation included  Harmon Canyon Preserves' cultural and natural history. Led by professional artists, participants used acrylic, water colors or oil paint to capture the beauty of Harmon Canyon Preserve. Public programs like this one enable participants to connect with nature and with community.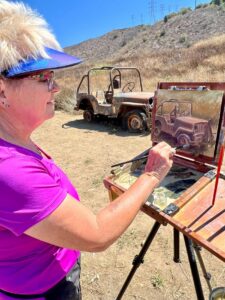 If you have any questions regarding this program or others like it, please contact Leslie Velez Outreach Director for Ventura land trust.
805 6438044