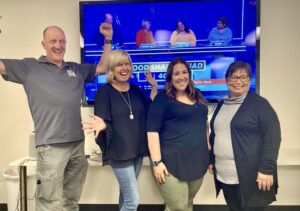 Four staff members from Food Share, Ventura County's largest hunger-relief organization, just won big on The Game Show Networks' season five of America Says! Comedian, John Michael Higgins, is the host of this popular fill-in-the-blank guessing game.
The invitation to compete came via a fellow Feeding America food bank and was a great way to put the fun in fundraising! Food Share's President & CEO, Monica White; Jennifer Caldwell, Chief Development Officer; Pam Castro, Agency Relations Manager, and Ed Skains, Facilities Coordinator, headed down to a studio in Burbank, and the "Food Share Squad" went head to head against "The Inlaws" in a fierce competition.
After a nerve-wrackingly slow start the Food Share squad pulled ahead of their competitors and made it to the one minute buzzer round, walking away with the full prize money of $15,000!
"We had an absolute blast," commented Monica White. "It was completely terrifying but after a losing streak we managed to pull through. What a fun way to be able to bring in funds to help serve our community!"
All proceeds are being dedicated to Food Share.