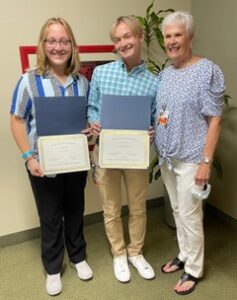 Three CMH Auxiliary Junior Volunteers were this year's scholarship award winners. Each of these graduating high school seniors received $1000 toward their future education.
Troy Braun received the Maria Cavallo Scholarship awarded to those pursuing a career in the medical field. Troy accumulated 243 hours of volunteer work while also maintaining a 4.42 unweighted GPA. In addition, he served as a worship team leader for his youth group and was a Tae Kwon Do studio volunteer. He won the Renaissance Award for Academic Achievement and a National Honor Society Award. He worked as a supervisor at Chick-fil-A and was named a Chick-fil-A scholar.
Troy will be attending Pepperdine University and will major in Psychology/PreMed in preparation for a career in Pediatric Oncology.
Zachary Leppaluoto and Hannah Miller were both recipients of the Audrey Woodburn Scholarship for students pursuing a career in nursing.
Zachary served 263 volunteer hours and earned a 3.74 unweighted GPA. He was involved in Boy Scouts and received his Eagle Scout Award in 2019. He also ran cross country and track and was an Academic Decathlon member. He is an AP Scholar with Honors, a Renaissance Academic Achievement recipient for 3 years, and accomplished all of this while also working as a Starbucks barista for the last year. He will be attending the University of Portland, majoring in nursing with a goal of becoming a registered nurse.
Hannah Miller volunteered for 234 hours and achieved an unweighted GPA of 4.09. She was team captain for Buena's girls' softball, a Dia De Los Muertos filmmaker, and assisted with Relay for Life and the Salvation Army's Adopt a Family program. In addition to achieving the Highest Batting Award for softball, she was awarded the Renaissance Academic Achievement for all 4 years of high school, and the Integrity Award. She also worked as a snack bar cashier, and at Two Trees Escape as well as being a sought-after babysitter. She will attend Loyola Marymount University, pursuing her goal of a Doctorate in Nursing Practice.