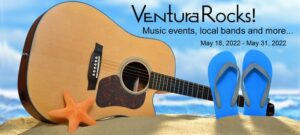 by Pam Baumgardner
VenturaRocks.com
25 years in business is quite the milestone, so congratulations go out to the crew at Winchester's Grill and Saloon in downtown Ventura! You'll want to be on hand when they celebrate with live music in their covered parking lot on Saturday, May 21 from 1 to 8 pm featuring CRV, the Brandon Ragan Project and Ray Jaurique & the Uptown Brothers. There will be drink specials, giveaways and as usual, no cover charge!
Heading to the other end of downtown Ventura on Main Street, you'll find a special singer/songwriter dinner event when Peirano's and Jodi Farrell team up on Thursday, May 26. Artists on the bill include Michael Henszey, Karyn 805, Dylan Brehm, Luke Hannington, Ella Robles, Aaron Burch, Oliva Mucha and Caroline Lloyd. Reservations are strongly encouraged via Peiranosmarket.com.
There are a couple of country music events coming up the next two weeks, first it's the KHAY Fest with Josh Turner, Dylan Scott and Tenille Arts on Sunday, May 22 at the Ventura Fairgrounds and then on Memorial Day, Monday, May 30, it's the Gold Coast Country Music Festival with Richie McDonald (Lonestar), Heidi Newfield (Trick Pony), Heath Wright (Ricochet), Coffey Anderson, Wade Hayes, Jamie O'Neal and a whole bunch more; this one is being held at the Camarillo Airport. You can find more info at GCCFest.com.
Dreamland is back post pandemic featuring Kimberly Ford celebrating the music of Joni Mitchell. The seven-piece band will make a stop at the Grape here in Ventura for a special performance on Sunday, June 5. Modeled on Mitchell's mid-1970's band with Tom Scott and the L.A. Express, Dreamland features Lee Rollag, guitar and violin; Tom Buckner, saxophone; Tom Etchart, bass; Dave Hunt, drums; George Friedenthal, keyboards, piano and melodica; and Sven Holcomb, backup vocals, guitars and percussion.
Another special event at the Grape features NYChillharmonic. This 18-piece progressive-rock orchestra is a female fronted band where their music fuses multiple genres including rock, pop and jazz. Having played multiple jazz festivals including Montreal, Melbourne, Buenos Aires, and Tokyo to name a few, you won't want to miss this two-time "Herb Alpert Young Jazz Composer Award" winners when they play this intimate venue here in town on Friday, May 27.
Quick Notes: Tickets are already on sale for Billy Idol on August 25 for the Ventura Theater; the Happy Face Music Festival out in Simi Valley is worth the trip for Mike Campbell and the Dirty Knobs, Sam Morrow, Hardcastle and Kelly's Lot on Saturday, May 28; Christine Law's Star Goes Nova project releases a new CD on May 19; Stellar Ruins is holding an album release party on Saturday, May 28 at Sans Souci; and Moorpark's High Street Arts Center's production of Rodgers & Hammerstein's The Sound of Music runs June 3 – July 3.
Do you have any music-related news or upcoming shows you want help publicizing? Please send all information short or long to [email protected], and for updated music listings daily, go to www.VenturaRocks.com.