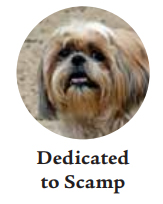 ∙ SPAN Thrift Store is open to the public and looking for donations of adult clothing, household items and tools. SPAN Thrift Store regularly provides $10 spays and neuters for low-income households for cats and dogs. Upcoming clinics: May 24th at Shiells Park, in the parking lot at 649 C St., Fillmore, 93015. And May 31st in the parking lot of SPAN Thrift Store, 110 N. Olive St., Ventura. Please call to schedule an appointment – (805) 584-3823.
A dog was found abandoned and tied to a fire hydrant in Green Bay, prompting the Wisconsin Humane Society to remind everyone it will never turn away an animal in need.
The dog had a note with her explaining the owners could not take care of her anymore.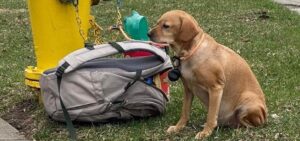 The dog, named "Baby Girl," was left with a bag filled with dog food, treats and toys.
Baby Girl is now being cared for at the WHS, and she's "doing great."
∙Fake meds from online sellers could prove dangerous to your pet
By Keely Arthur, WRAL consumer reporter
Seventy percent of U.S. families own a pet, according to the National Pet Owners Survey, and they are spending more money on their furry friends, including $10 billion on pet medications alone, according to a Pet Medications in the U.S. report. Shopping online for medication can expose consumers and their animals to knockoffs that either do not work or could be dangerous.
Dr. Jennifer Shults is a veterinarian and the owner of Veterinary Emergency Care of Cary. Shults is seeing more pets with faulty medications in their system in the Triangle, especially during and since the pandemic. She tells Five on Your Side that fake heartworm and flea prevention medication and fake injectable arthritis medications are the biggest offenders. She says that in all cases the medications were purchased online.
"If you your pet takes the wrong medication, there is certainly a risk of death," Shults said.
At the very least, she says a pet will not get the treatment it needs or get the preventative treatment it needs to keep a problem from arising. Shults suggests pet owners get their prescriptions through their local vet
If you suspect your pet has received counterfeit parasite preventative products, please call the National Pesticide Information Center (N.P.I.C.) toll-free at 1-800-858-7378. To report the retailer you purchased the product from, alert the E.P.A.
∙HealthDay News: If longevity were a priority when choosing a pup, Jack Russell terriers and Yorkshire terriers would be top picks.
Those little dynamos have the longest life expectancy of a host of common dog breeds, according to a new study by Dr. Dan O'Neill, an associate professor of companion animal epidemiology at the Royal Veterinary College in Hertfordshire, England.
Jack Russells and Yorkies have a life expectancy of nearly 13 years, O'Neill and his colleagues found after poring over thousands of dog records in the United Kingdom.
On the other hand, flat-faced breeds such as French bulldogs (Frenchies) and pugs tend to depart this world earlier than average, the study found.
Although they're all the rage now, Frenchies live only around 5 years, which is less than other flat-faced breeds, including English bulldogs (7 years) and pugs (8 years), according to the study.
Those that are healthiest and live the longest are dogs that "look like dogs" — not too big or too small with snouts and tails, according to O'Neill.
"We're looking at different configurations of dogs, mainly by breed, and we're seeing that life span tells us a story about the general health of these dogs," he said.
O'Neill and the team analyzed more than 30,500 records of dog deaths throughout the United Kingdom between 2016 and 2020. They categorized dogs into18 breeds recognized by the Kennel Club and also some types of crossbreeds. Using these data, they created tables that calculated life expectancy starting at birth.
Besides Jack Russells and Yorkies, other long-lived breeds include border collies and springer spaniels, with an average life span of 12 years.
Across all breeds, the average life expectancy for male dogs was 11.1 years, about four months shy of the estimate for females. Neutered dogs had a life expectancy of close to 12 years for females and 11.5 years for males. Life expectancy for unneutered dogs was about 10.5 years for males and females.
O'Neill recommends putting some thought into choosing a dog: Be conscious of the animal's health and life span and the life that the animal would like to live.
"When you go out to buy a dog, think about the world from the dog's point of view. Why buy a dog that will only live seven years and is likely to be plagued with illness?" he said.
O'Neill noted that human meddling is the cause of some unhealthy and short-lived breeds.
When people started keeping dogs for hobby and not for work, and the era of dog shows arrived, people started inventing breeds that didn't exist in nature, and this stopped dogs from evolving naturally, O'Neill said.
"The ones that have the very short life span tend to be the ones with extreme configurations," he pointed out.
These extremes include bigger or smaller than normal dogs, flat-faced dogs, dogs without tails and dogs with excessively wrinkled coats, O'Neill said.
Many of these engineered breeds have breathing problems, crowded teeth and eye abnormalities. Some can't give birth normally, O'Neill noted.
Breeders have become more conscious of the health problems that shorten the lives of some breeds and are breeding dogs to eliminate these traits, said Dr. Jose Arce, president of the American Veterinary Medical Association.
When selecting a dog, Arce suggests making sure it matches your lifestyle.
"How many hours you're going to spend in the house, how long you're gone, the size of where you live, because certain breeds need exercise regularly and to socialize. Other breeds can adapt to apartment life and don't need as much social life," Arce said.
Also, taking good care of your dog can extend its life and yours, he said.
"We want our pets to live as long as possible," Arce said. "We know how positive, how important the human animal bond is, and how dogs living with people help people live longer, healthier lives, so the longer the pet lives, the healthier and the longer the owner is going to live."
Dr. Jerry Klein, chief veterinary officer at the American Kennel Club, said the application of life tables is still in its infancy.
However, "life tables generated in the current study promote not only a better understanding of the life trajectory of dogs, but also may offer several applications for the veterinary profession and research to study and improve the health and welfare of dogs," Klein said.