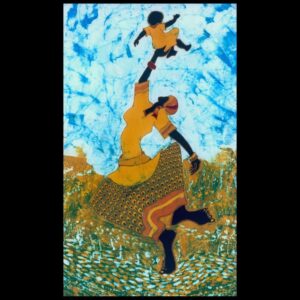 Renowned quartet Gov't Mule – led by GRAMMY® Award-winning vocalist, songwriter, guitar legend, and producer Warren Haynes – will be heading out on a U.S. summer tour supporting their critically acclaimed, chart-topping blues album, Heavy Load Blues. The cross-country outing, incorporating a mix of headlining shows, festival appearances and select multi-band/support dates, will be stopping locally in Ojai on Sunday, June 19 at Libby Bowl. Tickets are on sale now.
The Ojai Art Center is kicking off its 45th annual Art in the Park celebration Memorial weekend on May 28 and May 29, 2022. Unlike last year's socially distant Art in the Park, 2022, Walking through downtown Ojai's Libbey Park where over 80 artists will showcase their recent works. 
Last year's Best of Show, Lungala Nzalamba, returns to Art in the Park. He uses a wax resistant fabric dying technique called batik to create vibrant and relatable images.  
Enjoy the Memorial weekend in Libbey Park. Free admission. Call 805-646-0117 for further information or visit www.ojaiartcenter.org
For 34 years, the Ojai Wine Festival has served as the primary non-profit fundraising effort of the Rotary Club of Ojai West Foundation and its numerous philanthropic endeavors. This year, proceeds from the Ojai Wine Festival will benefit local charities including HELP of Ojai, Secure Beginnings, Ojai Unified School District, and support the free Ojai Community Band concerts in Libbey Bowl in July and August. Historically, proceeds from the Ojai Wine Festival have donated more than $1,400,000 to Rotary's charity efforts around the world. 
This year, event participants of the 34th Annual Ojai Wine Festival can taste wines from all of California's unique growing regions in one beautiful lakeside location.
For additional information or to purchase tickets for the 34th Annual Ojai Wine Festival, please visit www.ojaiwinefestival.com   
Saturday, June 18th from 12:00 p.m. – 4:00 p.m. 
$85 in advance, $105 at the door
Lake Casitas Recreation Area, 11093 Santa Ana Road