Photos by Patricia Schallert and Yana Khiyod.
In a previous issue we had an article about the Gentry Eagle that was stored in the Ventura Harbor boat yard. It was once the fastest luxury yacht in the world. This yacht has been berthed and idled in the Ventura Harbor for over 15 years.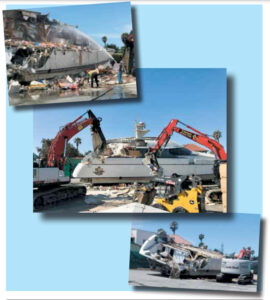 The Gentry Eagle was built in 1988 and on July 26th, 1989 she crossed the Atlantic to win a race, at an average speed of 73 miles per hour in one of the biggest Transatlantic
races in maritime history.
Even though there were many rumors about its future the Eagle has now been demolished by a huge mechanical "hand." It was carefully pulled apart piece by piece so that the aluminum (and other valuable parts) could be salvaged. Her ghost will always remain in the harbor.