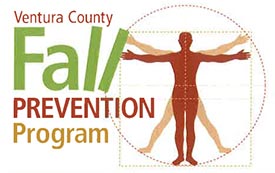 by Carol Leish, MA
The Ventura County Area Agency on Aging offers different types of Fall Prevention Classes. These classes include: A Matter of Balance; Stepping On; Tai Chi: Moving for Better Balance; and, Walk with Ease. These classes, which are part of the Fall Prevention Program, strives to assist adults to maintain their independence at home.
A Matter of Balance is an 8-week, 2 hours per week class. It is designed for those 60 and older who are inactive with poor balance, who have fallen, and who may have developed a fear of falling. It helps to improve balance and strength of individuals. Stepping On is a 7- week class that meets 2 hours per week in which participants 65 and older have access to a physical therapist; a vision expert; a public safety expert and a pharmacist in order to realize how vision issues can be linked to falls and how medications affect someone's links to falls. Participants will also learn strength and balance exercises.
Tai Chi: Moving for Better Balance is a 12-week class that meets twice weekly for 1.5 hours each class. It includes easy-to-do exercises that increases strength, stamina, mindfulness and body awareness to provide better balance. Walk with Ease is a 6-week structured walking class that starts out with walking a minimum od 30 minutes a day. It includes health information and motivational tips. Both Tai Chi: Moving for Better Balance and Walk with Ease are for those who are 60 and older.
"There is an educational aspect that deals with nutrition and emotional/physical wellness in all the classes offered," according to Jannette Jauregui, MSJ, Public Information Officer at the Ventura County Area Agency on Aging. "The classes are all evidence-based, designed with those 60 and older in mind. Studies have been done to show the effectiveness of the classes in improving and strengthening balance and mobility. A Fall Prevention Forum will be offered in September of this year."
All classes are FREE and open to any Ventura County resident 60 or older. For more information, call: (805) 477-7800 (option 6), or email: [email protected]. Find more information at: https://www.vcaaa.org/our-services/fall-prevention/.
(Future articles will focus on other programs offered by the Ventura County Area Agency on Aging dealing with: Care Management; Information provided by the Assistance Team; and, the Senior Nutrition Program.)