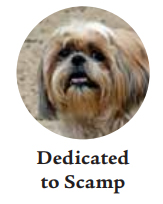 ∙ The Ventura Police Department adopted a therapy comfort dog to improve the physical, social, and emotional well-being of officers, staff, and community members in crisis and after having experienced trauma.
Asher, a 1-year-old Cavalier King Charles Spaniel and Poodle mix, or Cavadoodle, was donated to the department by VIP Dog Teams, a local non-profit dedicated to improving people's health through promoting the human-animal bond that leads to healing.
"When first responders are equipped to deal with adverse reactions to stress, they are better prepared to handle situations fairly, calmly, respectfully, and empathetically," said Police Chief Darin Schindler. "I am excited to add Asher to our dedicated team of public servants to help enhance the health and wellness of our employees and residents."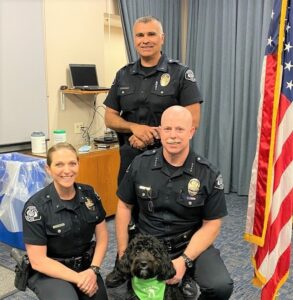 As a therapy comfort dog, Asher's functions include easing tension and lowering post incident stress and anxiety levels for employees, soothing victims and witnesses of crimes, providing support to those impacted by traumatic events, and visiting other City departments and various community events for educational purposes.
After an internal interview and selection process, Business Services Officer, Roger Wang, was selected to serve in a collateral assignment as Asher's handler. Asher has completed American Kennel Club Canine Good Citizen certification. Prior to being ready for service, Asher and his handler will complete Canine Good Citizen Testing and a Public Access Test.
When Asher is not on the job, he will be on-call 24/7, but will go home with his handler and serve as a family dog.
Asher joins a robust wellness program consisting of time dedicated to physical fitness, a peer support team, critical incident stress management debriefings, and mandated annual mental health check-ins with a certified clinician. Learn more about the Ventura Police Wellness Program at www.CityofVentura.ca.gov/Wellness.
Continued veterinary expenses, food, and grooming for Asher will be covered by the Ventura Police Community Foundation. Learn more about the Ventura Police Community Foundation at www.VenturaPoliceFoundation.org.
∙ Join us at Ventura Bark and Meow for a fun-filled dog-friendly day at Mission Park in Ventura. It's a party for your dog, but you can come too!
We are Homes Fur All, a 501©3 Non-profit organization dedicated to saving rescue pets. Our mission is to bring fun dog friendly community festivals and pet adoption to communities in and around Los Angeles and raise awareness that "Fostering Saves Shelter Pets".
Ventura Bark and Meow will take place on Saturday, June 25, 2022 from 12 Noon to 5pm. There's free admission and will be filled with activities, contests, freebies, along with a rescue pet adoption! Come check out the Dog-o-sphere and the Furball Express Rescue Train where kids and doggies can take a ride. We will also have live entertainment, food trucks, and raffles!
If you are interested in becoming a sponsor, please contact us – www.barkfest.org
Free tickets can be found on Eventbrite: https://www.eventbrite.com/e/ventura-bark-meow-tickets-66485093705 Homes Fur All: www.HomesFurAll.org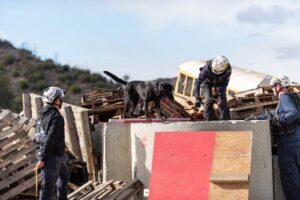 ∙ The National Training Center is once again filled with visiting search teams!
Over the last few months, we've welcomed visiting teams to our campus with increasing frequency, providing them with the unique training opportunities needed to keep them ready to deploy. Canine disaster search teams from California, Utah, and Nebraska task forces came to our National Training Center to sharpen their skills and practice their search technique on various disaster simulations that mimic real-world scenarios.
We have had several visits from the handlers enrolled in our Handler Training Program, which combines classroom learning with real-life disaster scenarios designed to teach canine handlers new skills and sharpen their competencies in preparation for pairing with a canine partner.
Lending valuable authenticity to these scenes were our very own SDF volunteers who participated as victims during the searches. Even though we had one day of uncharacteristically rainy weather for Southern California, our volunteer victims were eager to help and didn't let muddy conditions on campus dampen their enthusiasm!
Everyone had a blast gaining first-hand experience, and the visiting teams appreciated SDF's support in exposing their canines to new human scents and increasing the number of searches they could perform. We expect many of these teams, along with those who could not travel due to COVID, to be back for follow-up training in the coming months!
Your gift to Search Dog Foundation could have double the impact. Many employers offer matching gift programs that double, or even triple, charitable contributions made by their employees. Ask your employer today if they will match your donation!
National Disaster Search Dog Foundation
6800 Wheeler Canyon Road
Santa Paula, CA 93060