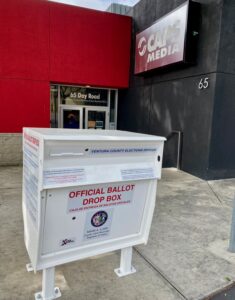 The June Primary Election is closing fast, and CAPS Media is honored to have an official County Ballot Drop Box installed in our parking lot to convenience voters in Ventura. For this year's election Ventura County will fully implement the California Voter's Choice Act (VCA) which allows voters to choose how, when, and where to cast their ballot.
To start, every registered voter in Ventura County will be sent a vote-by-mail ballot by mid-May. Ballots can be completed and mailed back to the County registrar at no cost to the voter. Or, completed ballots can be dropped off at any of the 38 official ballot boxes throughout the county or delivered to one of the county's 51 Vote Centers. A list of ballot box drop boxes and Vote Centers can be found at VenturaVote.org.
For those who want to exercise their right to vote in person, the county has you covered. As outlined by Mark Lunn, County-Clerk, Registrar of Voters, "For those who want to vote in person, they can visit one of ten Vote Centers that will open beginning May 28, or one of the 41 additional Vote Centers that will open beginning June 4." Mr. Lunn added, "Plus no matter how they send in their ballot, voters will be able to track it by registering at WheresMyBallot.sos.ca.gov."
In addition to providing the official ballot dropbox location, CAPS Media is also assisting the county by producing a series of instructional videos designed to facilitate training of Vote Center workers. In the past the training was conducted in person in large group settings. The new video series will allow Vote Center workers to learn, review and reference all of the important tasks and responsibilities online. The videos include step-by-step instructions and demonstrations on how to set up and operate a Vote Center, as well as explanations of the rules, regulations and procedures required of the vital Vote Center worker.
Out of caution the CAPS Media Center has been closed throughout the pandemic and will remain closed until the staff and board of directors deems it safe to reopen. Despite the closer of the center, the CAPS Media staff has stayed extremely busy throughout the crisis managing, scheduling, broadcasting and streaming programming on CAPS Media Channel 6 and 15, and CAPS Media Radio KPPQ on 104.1fm, capsmedia.org and on myTunerRadio.
CAPS Media productions services have continued nonstop to the City with CAPS facilitating meetings at City Hall, and by producing informative videos for Mayor Sofia Rubalcava, City Police, City Fire and other agencies.
For VUSD and other school districts in the county, CAPS is producing an honoring ceremony for the Ventura County Indian Consortium. In a few weeks CAPS crews will record and live-stream graduation ceremonies for Ventura College on May 19, Ventura High on June 15, Buena High on June 16 and Foothill, Pacific, El Camino and VACE (Ventura Adult and Continuing Education) on June 17.
As mentioned, as a precaution, the CAPS Media Center remains closed to the public. During this time the CAPS Media staff and board of directors are using the break to undertake an internal evaluation to determine the most effective services to provide to the public once we reopen the center and are in full operational mode. The CAPS Media mission remains: To create an engaged and informed community through participation in electronic media.