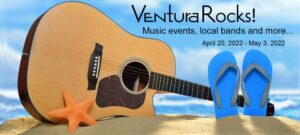 by Pam Baumgardner
VenturaRocks.com
The historic Olivas Adobe will once again host Music Under the Stars on Friday nights from July 9 – August 27. There are a number of tribute bands such as Savor, tribute to Santana on July 16, Dark Desert Highway, tribute to the Eagles on August 13 and 4 Lads from Liverpool, tribute to the Beatles on August 20. Tickets are only $20, and an extra $25 to reserve a table. Tickets go on sale May 2 at www.cityofventura.ca.gov/MUS.
Ojai Music Festival's 2022 season has been announced and will run June 9 to June 12. For scheduled performances and ticket information, go to OjaiFestival.org.
Ventura Music Hall will be launching their Friday night Golden Hour series featuring mostly local tribute bands from May 13 through June 24. Lined up are Twisted Gypsy, Sgt. Pepper, Black Crystal Wolf Kids, Ridin' the Storm Out and Doin' Time.
There will be a Ukrainian Relief benefit brunch featuring live music by The Cover Girls & Friends, Breaking Bored, and Misunderstood at the Ventura Harbor Comedy Club on Sunday, May 1. All proceeds going to the Ukrainian relief charity of your choice. For more information and to reserve your spot, call Rosa Carbajal at (805) 827-2306.
Salzer's Records will host a Meet and Greet with Think: X on Saturday, April 23 featuring bandmates Norwood Fisher (Fishbone), Stephen Perkins (Jane's Addiction), Scott Page (Pink Floyd), and Kenny Olson (Kid Rock) who will be stopping by on Record Store Day to promote Think: X, An Exploration of the Music of Pink Floyd. Think: X performs at Oceanview Production Studios in Port Hueneme later that evening.
Rock-n the Streets is free and happening on Saturday, April 23 at Casa Agria Specialty Ales located at 701 N. Del Norte Blvd in Oxnard with performances by Omega Nova, Stellar Ruins, NoSilence, Sunjelly, Crawdads and the Panes.
Just a few shows lining up at Libbey Bowl include the Musical Box performs Genesis on May 22, Stephen Pearcy of Ratt on July 8, Former members of Oingo Boing on July 16, ABC on July 17, the Zombies on July 22, Bruce Hornsby and the Noisemakers on August 5, Mark Farner's American Band acoustic show on August 6 and Michael Feinstein on August 27.
Quick Notes: The Twist on Main hosts Muse on Main: a benefit concert for Musicians on a Mission on Saturday, April 23 with Dr. T and the Blues Criminals; Tom Scott (the Blues Brothers, LA Express) plays the Grape on Friday, April 29; Kyle Smith is back in town with full band at the Six Chow House on Friday, April 29; Agent Orange plays Gigi's on Friday, April 29; and new music out: Rain Perry's a White Album, Shaky Feelin' Brand New Day and Night Demon's Year of the Demon (2020 singles compilation).
Do you have any music-related news or upcoming shows you want help publicizing? Please send all information short or long to [email protected], and for updated music listings daily, go to www.VenturaRocks.com.