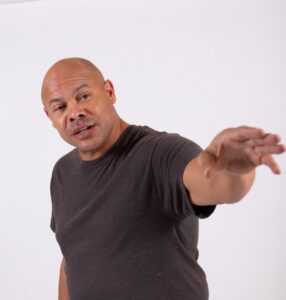 by Anna Deavere Smith
Powerful, illuminating and moving, this "masterpiece" (Newsweek) looks at the L.A. Riots of 1992 (sometimes called the L.A. Uprising or Rebellion), through the eyes of 36 characters of different characters who shared their stories with creator Anna Deavere Smith. The production won Obie, Drama Desk, Theatre World and Outer Critics Circle Awards on Broadway. The production premieres on the 30th anniversary of the day the verdict was announced in an East Ventura County courtroom in the Rodney King Trial, triggering the LA. Riots – one of the largest social explosions of the 20th century. Twilight goes directly to the heart of issues of race and class and is equal parts meticulously researched reportage and a stirring cry for reform.
Starring Chris Butler
Directed by Chris Butler and Jenny Sullivan
Previews:
Wednesday, April 27 & Thursday, April 28 at 7:00 p.m.
Opens:
Friday, April 29 at 8:00 p.m. (the 30th Anniversary of the L.A. Riots)
Runs:
Friday, April 29– Sunday, May 15, 2022
Performances are Wednesdays at 2:00 p.m. and 7:00 p.m. (Talkback following), Thursdays at 7:00 p.m.; Fridays at 8:00 p.m.; Saturdays at 2:00 p.m. & 8:00 p.m. and Sundays at 2:00 p.m.
Ticket Prices range from $30.00 – $79.50
Rubicon Theatre Company
1006 E. Main Street in Ventura (at Laurel)
For tickets – visit www.rubicontheatre.org or call (805) 667-290