Nasarenko served two terms as a Ventura City Councilmember.
by Richard Lieberman
Ventura County District Attorney Erik Nasarenko has served as District Attorney since being appointed in January, 2021. Appointed by the Ventura County Board of Supervisors with a vote of 5-0, Nasarenko is looking to continue his time in office running for the office for the first time.
Prior to his appointment as Ventura County District Attorney Nasarenko served two terms as a Ventura City Councilmember and served as Ventura City Mayor. He also served as Senior Deputy District Attorney.
"Among my top priorities to ensure that the new family justice center for victims is implemented in the county. We now have three million dollars in which to make that intake and service center a success. We also want to implement successfully the new domestic violence shelter here in Ventura which will be right next to the existing family justice center thanks to the Ventura Community Foundation. We will have fourteen beds with stays of up to fifteen days and this is part of breaking the cycle of abuse, he said. "We also begin a cold case sexual assault unit that will allow us to go back in time and analyze cold cases and literally take the files off of shelves from the storage lockers and begin the process of analyzing for DNA evidence. We will upload them to state and national databases to see if they cross reference to other unsolved crimes and if cases are within the statutes if there is a victim who would like to move forward we will file the appropriate charges, the objective here is to hold these offenders accountable", said Nasarenko.
Nasarenko also added that another priority is "getting the wheels of justice to back up to par after the fits and starts of the last two years. We receive on an annual basis approximately 25,000 potential cases. So, when the court is closed Covid related emergencies make the cases back up, we are now moving on full cylinders, trials are being conducted, courtrooms are active, jurors' are back in the jury assembly room, but one of the challenges in the months ahead is continuing to keep court operations moving. Also continuing to be a community-oriented prosecutor, I speak to Rotary's, city councils, law enforcement, chambers of commerce and social justice organizations. He added, "I joined a number of DA's in opposing literally suing the state to block the early release of some of these violent inmates and here we find that one of the individuals involved in the Sacramento mass shooting incident was indeed released early. Whatever I can do to use this office and our legal power to make sure that when someone is convicted they serve their full term. This will continue to be a priority."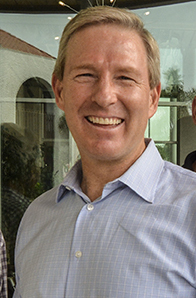 The Breeze asked the DA what difficulties he finds with balancing the responsibilities of the office and family life especially during an election cycle. "You have to recognize that during a finite period of time you will be out of bounds and equilibrium. When this campaign began last summer I sat down with my wife and kids and I said dads going to be out of the house a lot, its not forever, we have about ten or eleven months and it's important that dad just work really hard and do everything he can to keep this job and I am not saying it does not come with sacrifice."
Nasarenko's family is from Ukraine and his parents emigrated to the United States in 1950 after surviving World War II living in refugee camps for five years. He stated, "I feel a sense of helplessness right now."
When asked what a typical day is like for him he replied "every day is different than the day before, you are receiving input from the chiefs about legislation, what should be our position if we are going to oppose or if we are going to support it and how do we communicate that support. Are we going to file a case a certain way or should we consider different charges?
Most importantly I am in touch and communicating with the entire office. I will routinely go to jury trials to watch opening statements, closing arguments and I like to walk the halls and interact with the deputy DA's. I want to have my ear to the ground and be in a position to understand who is on trial. I am very mindful about the potential to become isolated and to lose touch of the overall office, so I am conscious and deliberate with a very hands-on active way,"
Encouraged by his parent's support Nasarenko applied to the district attorney's office and got the job.
He, and his wife, and daughter visited Ventura and fell in love with the city and the county and has made his home here ever since their first visit.
Editor note: On June 7 John Barrick and Erik Nasarenko will be running for the position of Ventura County District Attorney.