Local students' innovation helps county's homeless population. Photos by Patricia Schallert
A group of enterprising 7th and 8th graders from Cabrillo Middle School have partnered with Food Share Ventura County in a project designed to make life a little easier for the county's unhoused population but that could have an impact far beyond.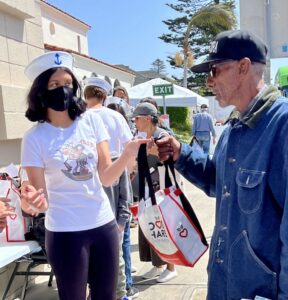 The Rusty Sailors robotics created a tote bag that converts to a backpack. They distributed the bags on Monday, April 11, at The River Community Church, 859 E Santa Clara St. The church is under the direction of Jim Duran, The River Community's pastor.
Saanvi Joshi, Hendrix Lowder, Jane Kim, Jude Curtis, Izzy Quiroz, Maddie Wicks, Maverick Cheatham, and Aarana Khanavkar, all members of the school's "Rusty Sailors" Robotics Club, are participating in the 2021-2022 season, CARGO CONNECTSM, FIRST® LEGO® League Innovation Project, to identify a problem related to improving the transportation journey of products, and design a new piece of technology or improve an existing one. FIRST® empowers students ages 9-16 to explore what it means to be an innovator, finding solutions to today's societal problems that could impact the world for generations to come.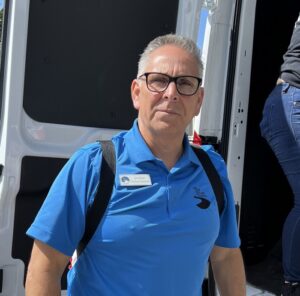 The Rusty Sailors visited Food Share last year to get a better understanding of how a food bank works and learned about Food Share's "Kitchen-Free" program that provides bagged, nutritious, no-cook food for people without access to a kitchen. Food Share has distributed 24,000 kitchen free bags to date through their network of 190 pantry partners.
Following the field trip, Laurie Lowder, one of the club's coaches, witnessed two men on bikes struggling to carry the branded Food Share bags and the experience inspired the children to think of ways to improve the design to make them easier to transport. The result is an ingenious and inexpensive modification that turns it into a backpack.
Speaking about the innovative design, Hendrix Lowder, 13, said, "We got empty bags from Food Share so we could experiment with ways to make them better. After our team developed a prototype, we got a grant to make one hundred bags so that we can hand them out to people who are homeless. We've also added a QR code to the bags linked to a survey for people to tell us what they think and to get suggestions for improvements. It's very exciting to be able to see the project all the way through to the product design stage."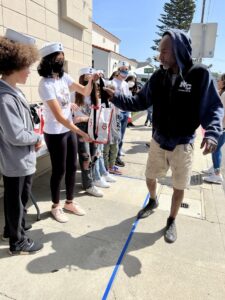 The design has already caught the eye of the FIRST® project judges. The Rusty Sailors won the Global Innovation Award nomination for the Southern California Regionals in December. Teams nominated for their outstanding solutions could advance to the 2022 FIRST LEGO League Global Innovation Award presented by Qualcomm to attend workshops with innovation and industry experts.
An estimated 1 in 6 people in Ventura County experiences food insecurity, meaning that they are without reliable access to a sufficient quantity of affordable, nutritious food.
Before the pandemic, many of the families Food Share served would need supplemental food perhaps two-three times a year.
Food Share is serving approximately double the number of people being served pre-pandemic. The latest figure (total for 2021) is a little over 190,000 unduplicated people based on FreshTrak data. However, this figure does not include people attending emergency drive-thru distributions, some of our programs, including Community Markets, or farmworkers receiving food at field distributions.
For all the latest information on where to find food, how to volunteer, and how you can support Food Share with a monetary donation visit: www.foodshare.com