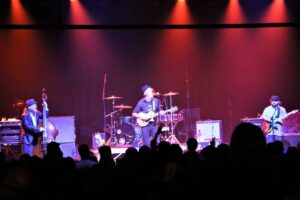 by Pam Baumgardner
VenturaRocks.com
Well, they pulled it off! The all-new Ventura Music Hall opened on time, March 22 with G. Love and the Juice and I couldn't be more pleased. The room looks fantastic, the music doesn't compete with bowling lanes anymore, there are two bars to serve (one just for beers) and the staff is super friendly. This concert hall took over the former Discovery venue at 1888 E. Thompson Blvd, and their calendar is filling fast. You should bookmark their website (VenturaMusicHall.com) so you won't miss any upcoming shows and you can get tickets before they sell out. See listings below for the next two weeks' worth of shows including Don Felder, formerly with the Eagles for a seated show on April 9.
Congratulations to Kathy Bailey, new owner of Surfers Point Café (formerly the Sandbox Coffeehouse at Thompson Blvd and Figueroa). They've been making some improvements and I'm happy to report live music will be booked on the weekends. On the books already, Ben Garcia on April 9 and 23, Gabby Montiel on April 16 and the CocoKnots on April 30.
Oceanview Pavilion in Port Hueneme has a few shows lined up including Smooth Sounds of Santana (Santana tribute) on April 9 and Think: X, an exploration of the music of Pink Floyd on April 23. Think: X features Norwood Fisher from Fishbone, Scott Page and Roberta Freeman who both worked with Pink Floyd, Stephen Perkins from Jane's Addiction, and more.
Quick Notes:
Bad Religion plays the Majestic Ventura Theater on Wednesday, April 6; do note, all kinds of Deadheads will take over the Ventura Fairgrounds for the Skull & Roses festival April 7-10; the Doug Webb Group featuring Danny Carey of TOOL returns to the Grape for a show on Friday, April 8 (I understand they're donating half their take to the Grape for future improvements on the club); Julie Christensen returns to town for a special night of music at the Ojai Underground on Friday, April 8; along with a couple of DJs, ADD will be playing the VIP Bunny Lounge during the Spring Wine Walk on Saturday, April 9; Ventura Music Festival presents Twanguero's classical Spanish/Flamenco guitarist at the Ventura College Performing Arts Center April 9; Cadillac Zack presents the Jimmy Vivino Band at Cantara in Camarillo on Friday, April 15; Night Demon plays a gig at Casa Agria Specialty Ales on April 16; and one of the surviving remaining members of "the Wrecking Crew," Don Randi and Quest, will play a special show at the Grape on Saturday, April 16.
Do you have any music-related news or upcoming shows you want help publicizing? Please send all information short or long to [email protected], and for updated music listings daily, go to www.VenturaRocks.com.