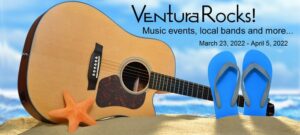 by Pam Baumgardner
VenturaRocks.com
There are a couple of festivals landing at the Ventura Fairgrounds soon. The incredibly popular Skull & Roses will run April 7 – 10 with Phil Lesh & Friends, Dark Star Orchestra, Oteil & Friends, Melvin Seals, and more performing. I spent some time on the website trying to figure out all the different options from daily tickets, to camping and which bands play which days, and then…I gave up. But if you're the forever Grateful Dead fan, then you won't mind figuring it all at SkullAndRoses.com
But before the deadheads descend on our fine city, the punk rockers will have their day on Sunday, March 27 at the Punk in Drublic festival. Ventura's date features performances from NOFX, Pennywise, Face to Face, TSOL, Lagwagon, Ill Repute and more. Per the easy-to-understand website, this event was created from the mind and livers of NOFX's frontman, Fat Mike, and craft beer fanatic/festival promoter, Cameron Collins, and they'll be traveling across the US and even making stops in Europe. Get ticket information at PunkInDrublicFest.com.
Madewest Brewing Company is celebrating their sixth anniversary on Saturday, March 26, with live music from Ghost and Ghouls, RJ Bloke and Milo Sledge at their brewery/taproom location at 1744 Donlon Street in Ventura.
Night Demon will be playing a hometown show to finally celebrate the release of their Year of the Demon album as well as their new beer, Beer of the Demon at Casa Agria Specialty Ales in Oxnard on Saturday, April 16. Tung will open.
The Ventura Music Festival added Twanguero for their 27th season; secure your tickets for the April 9 concert at the Ventura College Performing Arts Center through VenturaMusicFestival.org;
I'm looking forward to reporting on the grand opening of the Ventura Music Hall on my next column…but meantime, they are open for business! See listings below.
Quick Notes: Kelly's Lot rescheduled show for Namba is on Saturday, March 26; The Ojai Underground has Lola Haag Jazz Quartet on March 26, Mike Mullins on April 1, and Phil Salazar & the Kin Folk on Saturday April 2; Tickets are on sale now through EventBrite for Buckcherry at the Oceanview Pavilion for June 4, they just released their 9th album, Hellbound; and congratulations to The Silver for taking 2nd place in Rock the Valley battle of the bands guaranteeing them a slot in the summer concerts in the park this year;
The Pam Baumgardner Music Hour welcomes Mary Z Wilson to the program with a segment featuring three songs of Mary's choosing along with a little background and history on each act. The current show features Julie Christensen, Phil Salazar and the Tatters. The program airs on CAPS Media's KPPQ-lp at 104.1 FM in Ventura, or online at CapsMedia.org/Radio and airs Tuesdays and Fridays at 5 pm and Sundays at noon.
Do you have any music-related news or upcoming shows you want help publicizing? Please send all information short or long to [email protected], and for updated music listings daily, go to www.VenturaRocks.com.